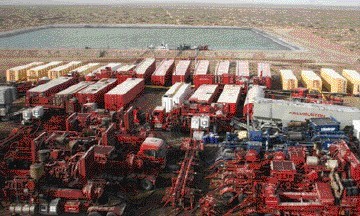 Unconventional oil and gas (UOG) operations in the US that involve fracturing may be harming human health.
By inference, research being carried out at the University of Missouri may sound alarm bells in the UK and wider EU where shale gas extraction (and oil) industry has yet to start.
Up to now in the US, discussions have largely concentrated on potential air and water pollution from chemicals used in these processes and how it affects the more than 15million Americans living within one mile of UOG operations.
Now, Susan Nagel at Missouri with others have conducted the largest review to date of research centred on fracking by-products and their effects on human reproductive and developmental health.
They determined that exposure to chemicals released in fracturing may be harmful to health in men, women and children. Over 150 peer-reviewed studies reporting on the effects of chemicals used in UOG operations were analysed. Evidence was found to suggest there is cause for concern for human health.
"Further, we found that previous studies suggest that adult and early life exposure to chemicals associated with UOG operations can result in adverse reproductive health and developmental defects in humans," said Nagel.
The reviewers concluded that exposure to air and water pollution caused by UOG operations may be linked to health concerns including infertility, miscarriage, impaired foetal growth, birth defects and reduced semen quality.
"There are far fewer human studies than animal studies; however, taken together, the studies did show that humans can be harmed by these chemicals released from fracking," Nagel warns.
"There is strong evidence of decreased semen quality in men, higher miscarriages in women and increased risk of birth defects in children."