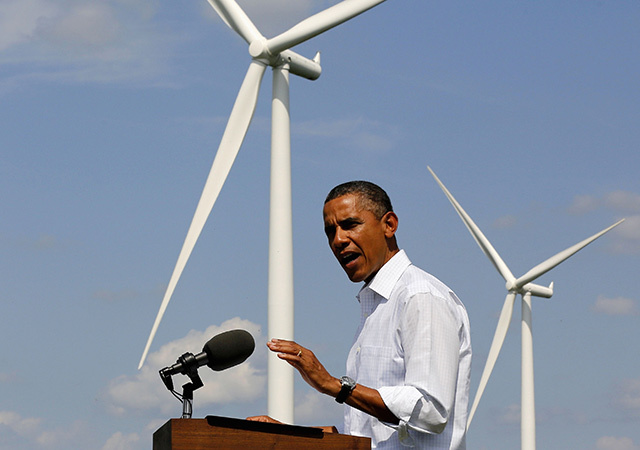 President Barack Obama will not sign a bill introduced  that would approve the Keystone XL oil pipeline, his spokesman said, as a top Democratic supporter urged the administration to seek a compromise.
A bill to sidestep an agency review was the Republican's first legislation introduced as they took control of both the House and Senate for the first time since 2007.
The measure has enough sponsors to pass but not enough to override a veto.
"My office has reached out to the White House," Senator Joe Manchin, a West Virginia Democrat, told reporters in Washington.
"We're looking at ways that we can work together to find out if there are some areas that they might, on content, object to that we can work with."
Manchin said he was optimistic given widespread public and industry support for the pipeline that Obama, who has expressed doubts about the benefits of the pipeline, can be persuaded not to veto the measure.
The House will vote on a similar Keystone bill Friday.
At the White House today, Press Secretary Josh Earnest said if the Keystone bill passes Congress, "the president wouldn't sign it."
The administration issued a veto threat last year on a similar measure to approve the pipeline, he said.
Republicans hold 54 of the Senate's 100 seats, and many — if not all — nine Democrats who backed a similar Keystone bill in November are again likely to support the measure, giving it enough votes to pass.
Senator John Hoeven, a North Dakota Republican and the bill's chief sponsor, said 60 senators are backing his measure and three three others have said they probably would support it.
That's four votes shy of the 67 needed to override a presidential veto.
TransCanada Corp. (TRP) proposed Keystone in 2008 to carry oil sands from Alberta across Montana, South Dakota and Nebraska toward US refineries along the Gulf of Mexico coast.
It's been held up in a political feud over jobs, climate change and energy prices.
A State Department review is in limbo, pending resolution of a legal dispute over the route in Nebraska.
"TransCanada is greatly encouraged by the introduction of bipartisan legislation in the new US Congress and the support of lawmakers who continue to make Keystone XL a legislative priority," Chief Executive Officer Russ Girling said.
Democratic Senate leaders opposed to circumventing the review are planing to offer amendments that would ban the export of any crude oil transported through the US over the pipeline, and require that American-made iron, steel and manufactured goods be used in the pipeline's construction and maintenance.
The Republican-controlled House can easily pass a Keystone bill and will vote on the measure this week.
The question is whether Congress could muster the two-thirds votes to override a veto if Obama rejected the measure.
Hoeven said an initial test vote on his measure would take place January 12, and that the chamber would spend "several weeks" on the bill considering a range of amendments.
New Senate Majority Leader Mitch McConnell, a Kentucky Republican and strong Keystone supporter, has pledged to allow both parties wide latitude to offer amendments to bills, including the pipeline measure.
Obama has criticized arguments that Keystone is an economic boon. At a year-end news conference December 19, he said Keystone will be "very good for Canadian oil companies, and it's good for the Canadian oil industry, but it's not going to be a huge benefit to US consumers.
"It's not even going to be a nominal benefit to US consumers."
Recommended for you

Biden to announce US Ban on Russian oil