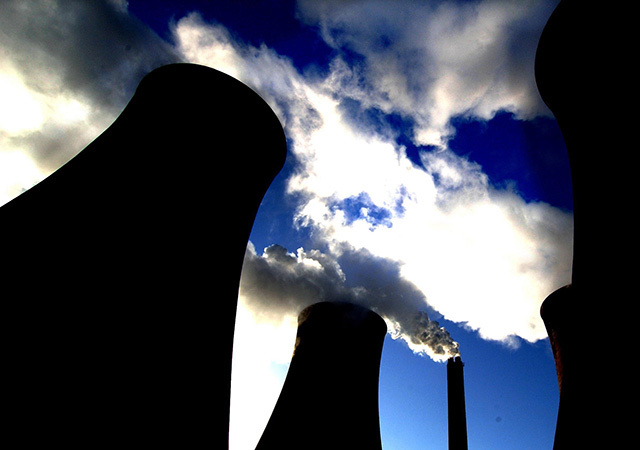 More than four fifths of the world's coal reserves cannot be burned if global temperatures are to stay below dangerous levels, a new study has suggested.
A third of oil and more than half of gas reserves must also stay in the ground up to 2050 if the world is to limit temperature rises to 2C to avoid the most dangerous impacts of climate change, research by experts from University College London showed.
The study, published in the journal Nature, also ruled out drilling for oil and gas in the Arctic as "inconsistent" with efforts to tackle climate change.
The research examined how much coal, oil and gas must go unburned up to 2050 to curb the carbon emissions that cause rising temperatures and where in the world fossil fuels can be extracted cost-effectively and where they must stay in the ground.
Some 223 billion fewer barrels of oil and 290 billion fewer tonnes of coal can be produced to keep within the 2C limit, compared to "business as usual" which puts the world on track for rises of 5C, leaving trillions of pounds worth of fossil fuels in the ground.
Shale oil and gas resources could be developed in Europe, including in the UK, the academics said.
But policy-makers would have to consider what other fossil fuel reserves would have to be left in the ground elsewhere to keep within the "budget" for carbon emissions to prevent temperatures rising too high.
The overwhelming majority of coal reserves in Russia and the United States must not be used, even if technology to capture carbon emissions and store them underground is developed, the study funded by the UK Energy Research Centre shows.
Carbon capture and storage – proposed by some as a means to keep burning fossil fuels, particularly coal – would not have a major effect on the amount of coal, gas or oil that can be burned up until 2050, because of its expense, late introduction and limits on how quickly it can be built.
More than 260 billion barrels of oil in the Middle East, equivalent to Saudi Arabia's total oil reserves, must also stay in the ground.
The estimated 100 billion barrels of oil and 35 trillion cubic metres of gas in the Arctic circle are classified as "unburnable" by the analysis, as drilling in the difficult conditions is too costly an option for supplying the gas and oil the world can use and still tackle climate change.
Increasing the use of unconventional oil such as Canada's tar sands is also incompatible with curbing temperatures, the study said.
Lead author Dr Christophe McGlade, from the UCL Institute of Sustainable Resources, said: "Policy makers must realise that their instincts to completely use the fossil fuels within their countries are wholly incompatible with their commitments to the 2C goal.
"If they go ahead with developing their own resource, they must be asked which reserves elsewhere should remain unburnt in order for the carbon budget not to be exceeded."
Co-author Professor Paul Ekins questioned £430 billion spending by energy companies in 2013 to search for new resources when there was more in the ground than "we can afford to burn", though he said he was in favour of exploring for shale gas in the UK.
"If it turns out we can exploit unconventional gas in a cost-optimal way I see no reason why we shouldn't do it, provided local environmental implications can be resolved, and that is a big proviso."
But he said policy makers needed to think about what other fossil fuels elsewhere would not be burned if new resources such as shale gas turned out to be viable.
He added that it may not be worth investing large sums of money in extracting "the last drops" of North Sea oil rather than importing cheaper resources from elsewhere.
Recommended for you

China's Russian energy imports balloon to $88bn since war