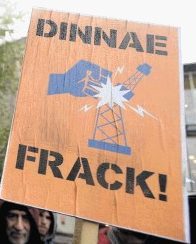 Fracking could happen on a large scale in the UK despite a recommendation from council officer to refuse two applications in England.
Cuadrilla said it will appeal any decision made councillors following the findings of a report by Lancahire County Council planning officials.
The recommendations were made over fears regarding the amount of night time noise and traffic the applications would generate.
Francis Egan, chief executive, said: "It is going to happen. We disagree with the recommendation of the planning officer on the noise issue.
"We hope that the committee will vote for these.
"If they don't, clearly we will have grounds for appeal, we believe, under the planning system."
Hydraulic fracturing – or fracking – involves pumping water, chemicals and sand at high pressure underground to fracture shale rock and release the gas trapped in it.
The application by Cuadrilla is the first to frack in the UK since 2011 after the company suspended operations following two small earthquakes.
Lancashire County Council has published reports with recommendations on planning applications from shale company Cuadrilla to develop two new sites to explore for shale gas by drilling, fracking and testing the flow of gas.
The council's development control committee is due to make decisions next week on the planning applications for the two sites, at Preston New Road, near Little Plumpton, and Roseacre Wood, near Roseacre, both between Blackpool and Preston.
The report recommended that the application for the site at Preston New Road should be turned down because of concerns over noise impacts which would "unnecessarily and unacceptably" affect neighbouring properties with noise pollution.
At the Roseacre Wood site, the report said there would be an increase in traffic, particularly heavy goods vehicles, which would result in "an unacceptable impact" on rural roads and reduce road safety.
If the council's development control committee take the advice of their planning officers and turn down the applications, it will be seen as a major blow to efforts to get the UK's shale gas and oil industry off the ground.
The Government is pushing for the development of a shale gas industry in the UK, claiming it would create jobs and growth, reduce energy prices and cut the country's reliance on gas imports.
Ken Cronin, chief executive of the UK Onshore Operators Group, the fracking industry body, said: "The grounds for refusal are local planning matters specific to these sites rather than any issues that would have an obvious impact on other shale gas applications."
For more oil and gas news click here.
Recommended for you

Liz Truss risks Tory backlash over end to fracking ban