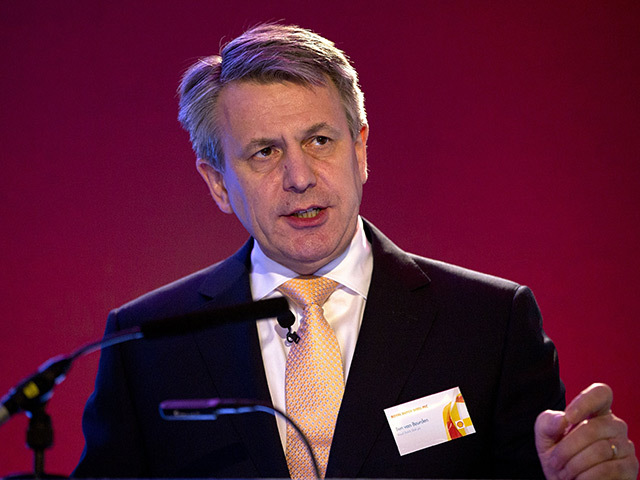 Royal Dutch Shell boss Ben van Beurden issued a plea to UK policy makers to "get on" with plans to maximise economic recovery in the North Sea yesterday.
He also called on the UK government to review its supplementary tax charge on North Sea oil producers as it has made the operation of some fields unrealistic.
Mr van Beurden said at a conference in London: "It needs to be looked at as the tax position is hindering viability."
The oil giant yesterday revealed plans to cut nearly £10billion from its global budget this year as it faces a new low oil price environment.
Mr van Beurden said the firm was taking a "prudent" approach to costs and that it would not "over-react" to the slide in oil prices.
Last year, Shell announced plans to slash 250 jobs at its Aberdeen office.
Yesterday he said there were "no guarantees in life" when asked about whether there would be further job cuts, but added: "there are many other ways in which we can take out costs."
He said the company would look to squeeze its supply chain as part of a programme of "multi-billion dollar opportunities" to reduce its spending this year.
The company's fourth-quarter 2014 adjusted net income of £2.2billion was weighed down by weaker than expected earnings from its oil and gas business.
"Upstream earnings of $1.7billion (£1.1billion) were well below our and consensus expectations of $2.8 billion," Morgan Stanley analysts said in a note.
Chief Financial Officer Simon Henry blamed the miss on a number of one-off items, including forex losses, exploration write-offs in North America and increased estimates of future decommissioning liabilities worldwide. He said those one-offs were unlikely to be repeated in future quarters.
The £9.9billion spending cut, which will involve canceling and deferring projects through 2017, represents a 14% cut per year from 2014 capital investment of £23.3billion.
Mr van Beurden said oil prices should reach a "long-term equilibrium" of $90 per barrel but did not say when he expected them to return to those levels.
Lower income from oil and gas production was offset by a near tripling of earnings from the refining and trading division to £1billion.
Mr van Beurden added said that the North Sea "already was a tough place" even before oil prices fell below $50 a barrel.
He added: "Is there a future for the North Sea?
"I think the report that came out last year, Sir Ian Wood's report, is a very, very good roadmap on what should happen in the North Sea; strongly regulated, driving more collaboration in the industry, better utilisation of the infrastructure that we have there, so I do think there is a clear and a good path forward.
"We have a regulator now so my plea would be let's just get on with that plan which essentially is a very good plan.
"Let's indeed take a significant hard look at the tax position because indeed we do see a significant squeeze in results but then there will be a future that will be probably not as lucrative a future as we have had years ago.
"It will require a whole lot of hard work and a lot of collaboration but there will be a future."
For more oil and gas stories click here.
Recommended for you

Dutch pension fund PMT sticks with nine oil and gas companies