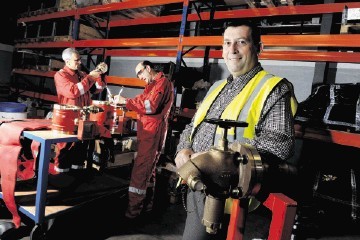 Growth in Britain's manufacturing sector ticked up at the start of the year as firms' costs were eased by plunging oil prices, but it remains "stuck in a low gear", figures showed today.
The sector posted a better-than-expected reading of 53 on the closely-watched CIPS/Markit purchasing managers' index survey for January – where 50 separates growth from contraction. It was up from 52.7 in December.
Firms were aided by the slump in oil prices which fed through to the steepest drop in input costs for nearly six years and they also cut their selling prices for only the second time during the past five years.
Manufacturers saw a modest increase in new business from overseas but the domestic market remained the main driver of growth as lacklustre demand from the eurozone kept the brakes on export performance.
Rob Dobson, senior economist at Markit, said this could soon change as policymakers unleash a 1.1 trillion euro (£830 billion) stimulus package to revive the moribund region.
Mr Dobson said: "UK factories reported a welcome upturn on growth of output and order books at the start of the year, but producers clearly remain stuck in a low gear.
"At this rate, the sector will provide little meaningful boost to the economy in the first quarter."
Staffing numbers rose at their lowest level for three months, though jobs are still being added at a rate of around 5,000 a month.
Howard Archer, chief UK and European economist at IHS Global Insight, said: "Despite recent lacklustre activity, manufacturers do have reasonable grounds to hope that 2015 will be a decent year, particularly on the domestic demand front.
"A major plus for manufacturers is that sharply falling input prices are allowing them to price competitively to gain business."
Official figures show the manufacturing sector grew by just 0.1% in the final quarter of 2014, its slowest pace since the start of 2013, knocking hopes from a rebalancing of the economy.
The wider UK recovery from the downturn has been driven by the dominant services sector and consumer demand while manufacturing remains well off the levels it had reached before the recession struck in 2008.
Lee Hopley, chief economist at manufacturers' organisation EEF, said: "We expect manufacturing growth to continue in 2015, though at a slower rate than in 2014, as risks to growth remain finely balanced with renewed concerns about not only the eurozone but also the pace of activity growth in China and the US."