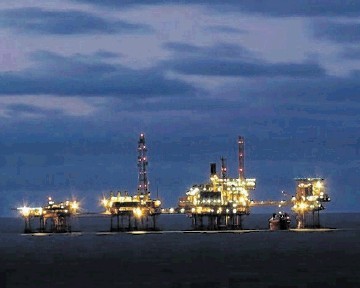 North sea oil workers could be set to down tools as unions move to ballot over possible strike action following changes to working conditions.
Unite and GMB union members of the Offshore Contractor Association (OCA) will vote on whether to take industrial action after talks with industry bosses in London broke down on Friday.
Contractors refused to negotiate over shift pattern changes from two weeks on/three weeks off to three weeks on/three weeks off and cuts to pension payments, sick pay and holiday leave.
Oil and gas giants such as Schlumberger, BP, Shell and Chevron have announced plans to axe jobs and reduce salaries this year as a result in the collapse of the global oil price.
About 2,500 workers, including electricians, plumbers, mechanics and riggers, will be asked to consider a range of responses, including strike action.
Unite industrial officer Tommy Campbell said: "Following the failure to agree we will consult our OCA membership asking them to consider a range of responses, including strike action.
"The downturn in oil price has seen our members' terms and conditions under attack like never before and while the threat of severe cuts hangs over them, contractors are offering no safeguards in return.
"What we want is for the OCA to work with us to preserve jobs, skills and sustain offshore safety rather than impose these opportunistic, unsustainable and unworkable changes to livelihoods.
"Oil prices will recover but knee-jerk cuts to jobs and standards will only undermine the future prosperity and safety of the industry in the long term."
Unite regional officer for offshore workers Willie Wallace attended the meeting on Friday.
He said: "The oil companies have broken the offshore contractor's agreement we had in place and are now trying to dictate to contractors.
"The changes will mean the guys will have to work an extra 28 days a year and will have to take holidays in their time away from the rigs.
"They are very drastic changes that they want to implement.
"The companies say they have to make savings with the oil price so low but they are looking to make them at the expense of our members.
"We will be holding the consultative ballot fairly soon and will see what the feeling in the workforce is."
The OCA, which represents employers, could not be reached for comment.
Recommended for you

Life after oil: From North Sea ships to Aberdeen Geek Retreat