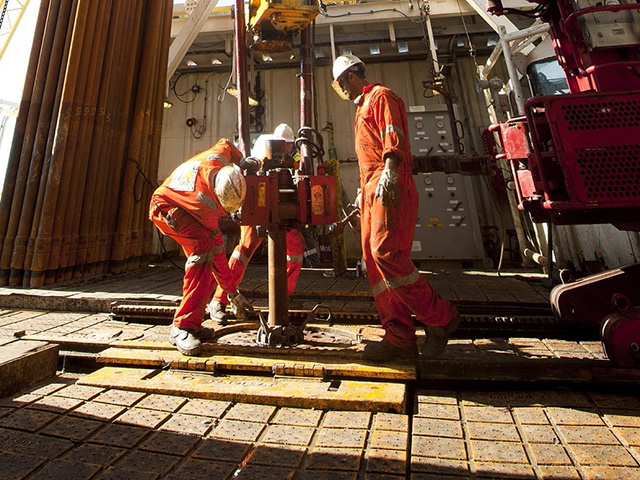 Gordon Brown is calling for the creation of a North Sea reserve fund to help the oil industry in one of his final speeches before stepping down as a politician.
The former prime minister believes the fund would help maintain and upgrade infrastructure and could provide last-resort debt finance for companies who want to keep fields open.
He believes the Government could even take over fields in partnership with some firms in order to keep them open and viable in future.
The Kirkcaldy and Cowdenbeath MP, who is stepping down from Westminster at May's election, also wants to see young people encouraged to work in hi-tech medical, environmental and engineering jobs as traditional manufacturing work continues to decline.
SNP deputy leader and Treasury spokesman Stewart Hosie said Mr Brown is "responsible for undermining investment" in the North Sea during his time as Chancellor and called on him to back the Scottish Government's action plan for the industry.
Speaking before he will give the inaugural John Wheatley lecture for Parkhead Housing Association in Glasgow tonight, Mr Brown said: "For 30 years oil has averaged around 17% of the Scottish economy.
But our best estimate is that production will fall from a peak of 4.3 million barrels per day in 1999 to 1.3 million barrels per day in 2018.
"The tax regime has always been controversial. I know this as a former chancellor and tax reductions are now necessary in the Budget. But a tax reduction for a loss-making operation is little help in the short term.
"This is not a normal downturn where we can automatically expect a full recovery when prices rise. One Budget initiative would be to recognise the tipping point we are at – the structural damage that could be done if fields are summarily abandoned – and create a North Sea reserve to maintain and upgrade essential infrastructure and to provide last-resort debt finance for companies who want to keep fields open.
"This could not be a subsidy. Money would, in fact, go not to the operators but would finance the work necessary to keep fields operational.
"I suggest we help where help is really needed: a partnership to keep fields in existence by sharing production costs.
"It can be done in three ways. First, as co-investors in public-private partnerships, second, through loans and third, with advance purchase agreements.
"These all depend on a shared effort from the operators to invest their own money.
"In the most extreme cases, to avoid the field being mothballed in its entirety, the Government could go into partnership for a take-over of the field. If it is temporarily abandoned, the Government should act to ensure that sometime in the future it is possible to come back and exploit the oil.
"Ultimately the proposal is to make the most of our oil reserves, rather than to ignore them or to downplay their contribution in the future, particularly given the volatility of the world oil market and the strong prospect that prices could rise again."
Addressing other parts of the economy, Mr Brown is expected to say: "In 10 years' time, manufacturing – once 40% of the Scottish economy – will harbour just 7% of Scottish jobs.
"We must aim to create high-quality, well-paying, hi-tech, secure jobs based around medical, information and environmental technologies and I will set out a plan to do so. This is the era of fast-moving change which creates massive insecurity and a demand from people that we shelter, insulate and protect them from alienating and all-pervasive change.
"We must use our undoubted scientific genius to create new products, new businesses and new jobs."
Mr Hosie said: "As a chancellor who treated Scotland's oil as a cash cow, imposed the supplementary tax on the North Sea industry in the first place, then doubled it – and left office having failed to set up an oil fund to deliver any long-term benefit from our own natural resources – Gordon Brown is responsible for undermining investment in this vital industry.
"The Scottish Government has already published a comprehensive action plan to help the North Sea industry and protect tens of thousands of jobs, and it would be good if Mr Brown could help make up for the damage he did when in office by backing it.
"This includes an investment allowance to provide support for fields that incur higher costs to develop, a reversal of the increase in the supplementary charge implemented by the UK Government in 2011, and the introduction of an exploration tax credit to help increase levels of exploration and sustain future production.
"Whatever good ideas Mr Brown has now, by definition he didn't implement them in the 13 years when he was chancellor and prime minister."
A Scottish Government spokeswoman said: "The North Sea oil and gas industry will continue to be a significant asset for Scotland and for the Scottish economy. However, it is increasingly clear that the oil and gas fiscal regime has become overly complex, burdensome and uncompetitive.
"The Scottish Government recent policy paper sets out a range of taxation changes. Our proposed fiscal changes will not only boost the economy but analysis based on industry data shows that they will support thousands of jobs.
"We are calling for an investment allowance – as recommended previously by the Scottish Government in 2011 and Scotland's Oil and Gas Expert Commission last year. This will simplify the fiscal regime and potentially boost investment by between £20 billion and £37 billion – supporting up to 26,000 jobs annually."