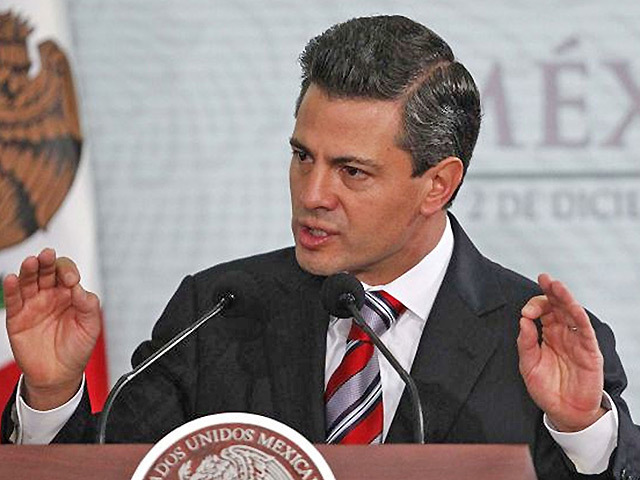 David Cameron and the President of Mexico have discussed the prospects for co-operation on energy as part of Europe's efforts to diversify the sources of its fuel supplies away from Russia during the ongoing stand-off over Ukraine.
The discussion came as the Prime Minister hosted Enrique Pena Nieto for lunch at 10 Downing Street on the second day of his state visit to the UK.
The Mexican leader will visit Aberdeen for talks with senior representatives of the UK oil and gas sector tomorrow, when he is expected to sign a memorandum of understanding on future collaboration.
Mr Cameron's official spokesman told reporters the two men had "talked about how the EU and Mexico can continue to co-operate on energy matters, including as part of the EU's strategy to increase diversification away from Russian energy sources".
The spokesman said Mr Pena Nieto "very much agreed with what the PM and other international leaders have set out about how Russia's actions in the context of Ukraine means we can't, as an international community, have 'business as usual' relations with Russia".
Mr Cameron declared his backing for Mexican former foreign minister Angel Gurria to put himself forward for a third term as secretary-general of international economic think-tank the OECD when his second term comes to an end in 2016.
Also on the table at the Number 10 talks was the strengthening of trade and commercial links, with a number of agreements being sealed during the visit, including a 400 million US dollar (£260 million) investment in Mexico by drinks giant Diageo, which purchased Tequila Don Julio last week.
And the PM's spokesman said Mr Cameron had raised the issue of human rights and judicial reform, welcoming a memorandum of understanding agreed between the Latin American country and the Home Office on co-operation on policing and judicial matters.
Campaigners have been calling for Mexico to address the country's upsurge in torture cases. Amnesty International UK said the nation's nine-year-long "war on drugs" has seen more than 100,000 killings and some 22,000 disappearances.
Mr Pena Nieto has also faced public anger over the handling of the abduction and apparent murder of 43 trainee teachers by corrupt police in league with gang members. The students' disappearance in Ayotzinapa in September sparked weeks of protests across Mexico against corruption and violence.
Mr Cameron welcomed the Mexican president with a handshake on the doorstep of Number 10.
"The relationship between Britain and Mexico is strong and getting stronger," said the Prime Minister.
"We see that in our trade, we see that in the number of students coming to study, but increasingly we are seeing it in the co-operation between the UK and Mexico over climate change, over aid policy, over the big foreign policy and security challenges of our time.
"We are going to have detailed discussions over lunch, including on co-operation in the oil and gas sector."
Speaking in Spanish, Mr Pena Nieto said he hoped his visit would give added impetus to strengthening a "very productive" relationship between the two countries.
Before going through to a lunch of crab salad, trout with vegetables and apple pie, the two leaders witnessed Foreign Secretary Philip Hammond and his Mexican counterpart, Jose Antonio Meade Kuribrena, signing a joint declaration on co-operation between the two countries.
Mr Cameron visited Mexico in 2012 for the G20 summit in Los Cabos, a few months before Mr Pena Nieto took office.
Mr Pena Nieto, who last night attended a state banquet at Buckingham Palace hosted by the Queen, also took part in a business leaders' breakfast meeting with Deputy Prime Minister Nick Clegg at the Palace, before meeting Opposition leader Ed Miliband and delivering the Canning Lecture at Lancaster House.
He was also attending a banquet at the Guildhall in London given by the Lord Mayor and the City of London Corporation.
Recommended for you

Interview: UK energy minister reaffirms oil and gas support ahead of COP26