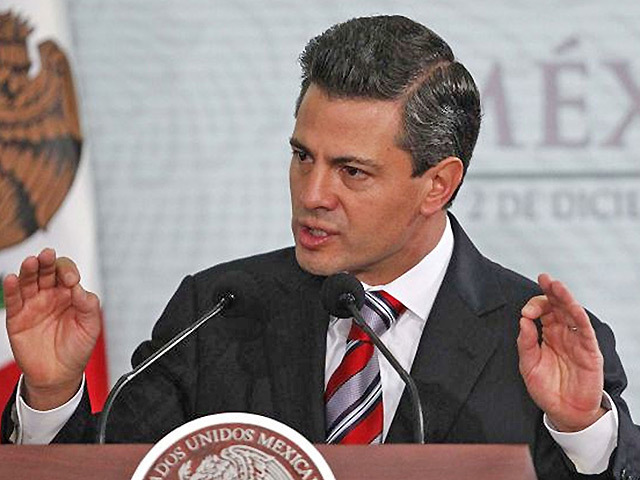 The President of Mexico said his country was keen to learn from the expertise of the North Sea oil and gas industry on a trip to Aberdeen yesterday.
A heavy police presence, a civic reception and some of the country's top politicians greeted Enrique Pena Nieto in what was his only commitment outwith London during his stay in the UK. In the grand surroundings of the Town and County Room in the town house, President Nieto signed memorandums of understanding with the UK Government to forge closer links on energy and climate change.
Lord Provost George Adam and Secretary of State for Scotland Alistair Carmichael welcomed the Mexican delegation to the north-east, while UK energy minister Matt Hancock described it as the dawn of "an era of closer collaboration".
President Nieto said his country had "enormous" reserves of oil and gas, but was "not capable of exploiting them".
In a speech that was largely tailored towards a large contingent of Mexican journalists, President Nieto urged investment in his country, which has embarked upon a major programme of energy reforms.
President Nieto, speaking through an interpreter, said: "I would like to thank the Lord Provost of Aberdeen for his hospitality and the opportunity of being in this historic place. In particular, in this city which is undoubtedly the energy capital of the UK and I would dare say in Europe as well."
President Nieto, who earlier visited BP and Shell, welcomed the opportunity to learn from companies investing "in different parts of the globe".
He added: "I truly celebrate being in Aberdeen and believe Mexico can learn from the city's energy sector's best practice."
Nieto urged investment in Mexico and spoke of the opportunities for UK companies.
Alec Carstairs, president of Aberdeen and Grampian Chamber of Commerce, said private firms could now invest in the state-owned energy industry for the first time in 75 years.
Earlier, Mr Carmichael said: "It is of course fitting that we are in Aberdeen to sign these agreements, a place that has become a global hub of expertise in the oil and gas sector over the last four decades.
"The industry here continues to adapt to operate in an increasingly mature basin. But these challenges bring new opportunities and a workforce with a range of skills and expertise that are under international demand."
Mr Hancock said the North Sea oil industry was seen as the "gold standard" across the world.
He added: "The government of Mexico expects $50 billion of investment by 2018 in the wake of its energy reforms – boosting the economy and creating jobs while rejuvenating production.
"Together with Mexico's energy ambitions and the UK's wealth of experience and expertise, now more than ever there are unparalleled opportunities for partnership across business and education."
President Nieto's convoy headed from the town house to the Robert Gordon University (RGU), where he viewed a demonstration of a drilling and advanced rig training simulator, a joint initiative with KCA Deutag.
RGU principal Professor Ferdinand von Prondzynski, said: "RGU has a long and established track record in working with the oil and gas industry and we will explain the important role the university plays in supporting the industry, particularly during the challenging times we're currently experiencing."
Recommended for you

Exc: North Sea drillers warn of rig exodus amid 'minimal opportunity'