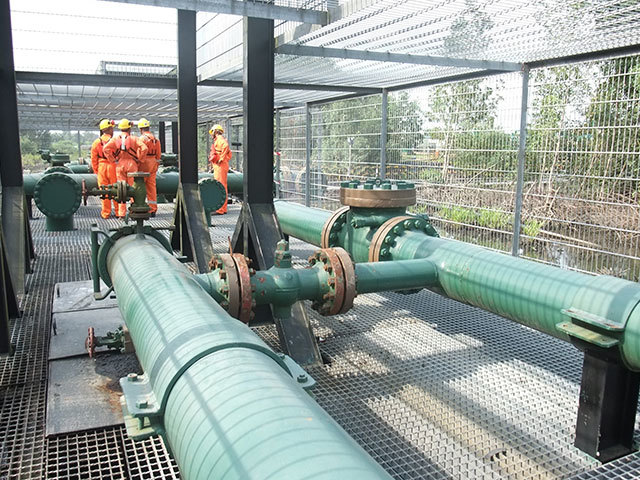 Aberdeenshire-based Eland Oil and Gas, a production, development and exploration company operating in west Africa, with a principal focus on Nigeria, said today it was benefiting from a share of 3,100 barrels of oil per day from the Opuama field.
Total output from the Nigerian asset includes 1,395 barrels a day for Eland's joint-venture, Elcrest Exploration and Production.
Eland, which has its headquarters in Westhill, near Aberdeen, said average "uptime" on Opuama increased month-on-month between August and December 2014. Average uptime for the fourth quarter was 73.8%, compared with 15.7% in the previous three months.
Elcrest achieved a 100% uptime of facilities and export pipeline during January and February 2015, the firm said.
Production was shutdown in January for planned maintenance of the Trans Escravos Pipeline network, but field uptime remained at more than 85%.
Opuama field cumulative gross production to date in 2015 is currently in excess of 175,000 barrels of oil, including 78,750 net to Elcrest.
Net deliveries into the export pipeline during the final three months of 2014 were about 225,000 barrels of oil, with 101,250 net to Elcrest.
In January and February 2015, Elcrest completed the loading and sale of 36,290 barrels gross of crude for an average price of $63.35 each through three oil liftings from Nigeria's Forcados terminal.
A further 23,000 barrels were lifted in March and 36,000 are scheduled for early April
Eland said well re-entry and workover opportunities had been evaluated and were included in its 2015 work programme.
It added: "The first of these will be the re-entry of well OPUA-005, which is currently shut-in.
"This well is expected to have the potential to produce between 400-600 bopd (barrels of oil per day) and is expected to produce a total of 1.1 to 1.3million bbls (barrels) over the life of the well prior to a planned conversion to a water injector.
"Mobilisation for initial operations is planned for April, with the completion of the workover expected during May.
"Dredging work on OML 40 has been completed and an updated hydrographic survey has been carried out.
"This has identified a number of high spots to be swept and this is planned for Q2 prior to any rig mobilisation.
"The second re-entry well is the side-track of OPUA-007, which is also currently shut-in. This operation requires abandoning the existing down-hole completion and drilling a horizontal side-track.
"As the side track requires the use of a drilling rig, it is envisaged that the workover will be carried out as part of the Opuama development drilling campaign, which is expected to begin in Q3.
The Opuama development drilling programme comprises seven wells, with contingent, follow-on, drilling activity through 2016. These seven wells will be drilled from a single surface location.
Eland chief executive George Maxwell said: "We are incredibly pleased that we have begun this year so strongly, with very high consistency of production from Opuama.
"Our operational focus has given us this success and provides a consistent revenue stream and the basis for the company to deliver its 2015 work programme.
"We do however continue with our cost reduction programme to reduce operating expenses as far as possible and maximise the return on our capex (capital expenditure) investment.
"The planned work programme, with the mixture of re-entry and new development wells, will result in 2015 being a transformational year for Eland, with material increases in production and revenues."
Read more oil and gas news here.
Recommended for you

End of year sees mixed progress on 2022's top 10 oil and gas projects