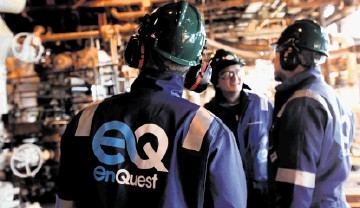 North Sea operator Enquest has told staff it plans to change the shift patterns of its offshore workforce as well as implement job cuts.
Staff were contacted yesterday to hear about the firm's plans to implement a three weeks on, three weeks off shift rotation.
The proposed reduction in staff numbers is expected be around nine workers from its North Sea assets.
Enquest said the final number will not be known until the consultation process, which takes 30 days, is complete.
Neil McCulloch, President, North Sea, EnQuest, said: "In order to ensure that EnQuest retains its competitive edge, we have been looking at every aspect of our business to see what we can do differently in terms of improving productivity, quality and cost-efficiency, whilst maintaining safe and effective operations.
"As part of this, we, like many other companies, are considering a range of offshore workforce reorganisation options, including the implementation of an equal time rota. This review will be ongoing over the coming weeks and months, and any changes we make following consultation will apply to offshore staff and contractors.
"The review of our offshore operations to address our unsustainably high operating costs has been ongoing since early last year, and the recent fall in oil price has made the situation more urgent."
The move will fuel anger amongst offshore workers who feel unfairly squeezed by operators that are struggling with a major slump in oil prices.
Last month Enquest revealed it had made a pre-tax £392m loss in 2014. But the firm pledged to increase investment on Kraken, one of the largest North Sea developments, which Enquest said was on budget and on track for first oil in 2017.
Recommended for you

Offshore Energy industry and its role in security and a low carbon future