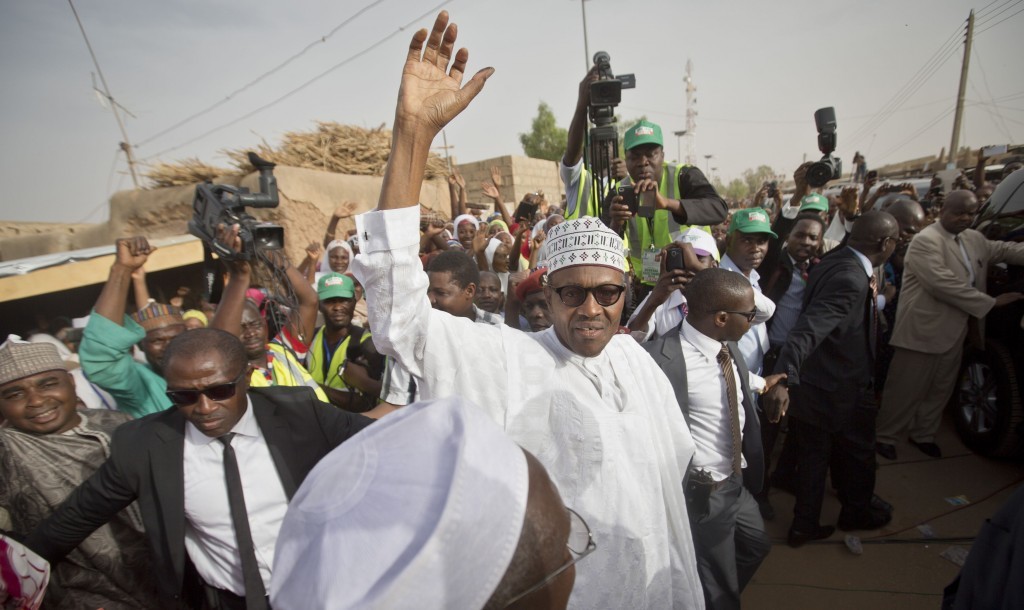 Celebrations erupted across northern Nigeria after Muhammadu Buhari clinched victory in presidential elections, ending a 16-year monopoly on power held by the ruling Peoples Democratic Party.
Thousands of jubilant youths spilled into streets of Kano, Maiduguri, Yola and other cities, shouting, honking horns and chanting Buhari's name. Some carried brooms, the symbol of Buhari's All Progressives Congress party and an emblem of it's campaign for change.
Buhari, a Muslim northerner and former military ruler, won 52.4 percent of votes cast and a majority in 19 of the 36 states, including all the predominately Muslim northern ones.
Incumbent President Goodluck Jonathan, a Christian from the south who took power in 2010, received 43.7 percent support in the March 28-29 vote.
Buhari's victory comes amid widespread disenchantment over high levels of poverty, unemployment and corruption, along with a six-year insurgency waged by Islamist militant group Boko Haram.
Nigeria, which has Africa's largest economy, ranked 152nd out of 187 countries on the United Nations Development Program's 2014 human development index.
"We have finally come to the end of an era that is characterized by injustice, insecurity and poverty," said trader Adhijo Musa, 38, who joined the celebrations in the northeastern city of Yola.
In Kano, the largest northern city, youths raced cars, pickups and motorbikes through the streets, watched over by flag-carrying APC supporters.
"We believe change has come," said student Ahmad Tijjani, 27, who joined in the drag races. "We are celebrating."
There were also wild street parties in Duara, Buhari's home town in Katsina state, and the cities of Jos, Bauchi and Gombe.
"We are overjoyed," Gombe resident Dukku Danbaba said by phone. "This day will remain a memorable one for me and many Nigerians."
In the north-eastern city of Maiduguri, the birthplace of Boko Haram, people danced in the streets to blaring music. Several residents of camps for people displaced by the insurgency, which has claimed more than 13,000 lives, said Buhari's victory should ensure they could return home.
In the southern city of Port Harcourt, the center of the oil industry and a Jonathan stronghold, the streets were calm as residents hurried home ahead of a night-time curfew imposed after several days of APC demonstrations.
Jonathan conceded defeat in a call to Buhari, according to APC spokesman Lai Mohammed — a move welcomed by Nigerians accustomed to post-election violence and political turmoil.
Buhari called on his supporters to remain calm and refrain from confronting PDP supporters or destroying their property.
"The mood of the country as well as its current state did not warrant the type of wild celebrations reportedly going on in some cities," Buhari's campaign office said in an e-mailed statement.