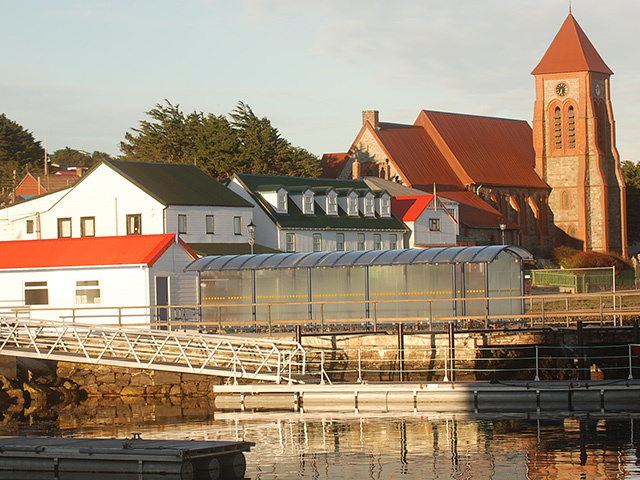 The UK and Argentina summoned each others' ambassadors as Britain stepped up its defenses of the Falkland Islands and the South American nation filed criminal charges against oil companies operating in the area.
The Argentine Foreign Ministry said it called in the UK ambassador to explain the defense spending and revelations by former US National Security Agency contractor Edward Snowden that the UK had spied on the Argentine government since 2009.
Argentine ambassador Alicia Castro was questioned by the UK after President Cristina Fernandez de Kirchner said the islands will be Argentine sooner or later, the Telegraph reported, citing a Foreign Office spokesman it didn't identify.
The Argentine government "expressed its discomfort" at recent comments by UK Defense Secretary Michael Fallon in which he alleged "a supposed and improbable Argentine 'threat,'" the Foreign Ministry said in a statement Thursday.
The UK will spend 180 million pounds ($270 million) over the next 10 years to refurbish defenses in the Falklands after a review found there's a continuing threat from Argentina to the territory.
The two countries went to war in 1982 after Argentine forces invaded the islands.
Argentina filed criminal charges Thursday at the general prosecutor's office in Buenos Aires against oil companies Rockhopper Exploration Plc, Premier Oil Plc, Falkland Oil & Gas Ltd, Noble Energy Inc. and Edison International SpA, the Foreign Ministry said in a a separate statement.
The energy companies are charged with carrying out exploration activity without the permission of Argentina's Energy Secretariat, according to the statement.
The charges come after Premier Oil and Falklands Oil and Gas said April 2, the 33rd anniversary of the invasion of the islands by Argentine forces, that they had made a discovery of oil at their 'Zebedee' exploration well that exceeded expectations, according to statements on their websites.
Speaking in southern Argentina on April 2, Fernandez called the announcement a "provocation." She also said that while the islands, which Argentina calls the Malvinas, will be Argentine sooner or later, the South American nation isn't a threat to the UK or the Falklands. Argentina will continue to press for constructive dialogue to resolve the dispute, she said.
Recommended for you

Harbour Energy faces Argentina sanctions over Falklands oil project