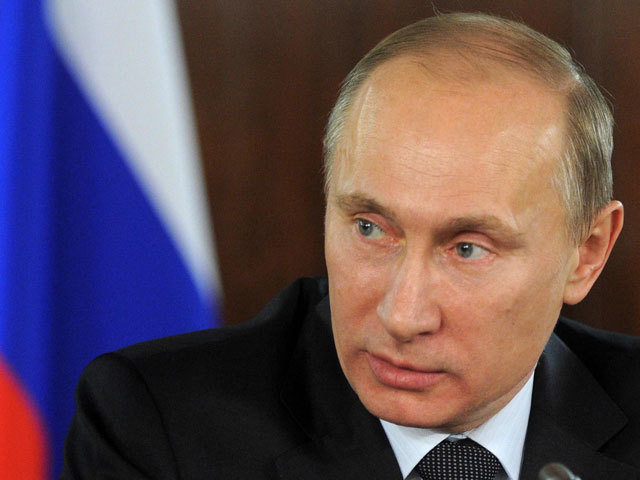 In Russia, even private companies serve at the pleasure of the president, particularly if they pump oil.
A decade ago, Vladimir Putin's allies had Mikhail Khodorkovsky jailed and seized his Yukos Oil Co. Last year, they forced billionaire Vladimir Evtushenkov to hand over OAO Bashneft. Now they're coveting the biggest corporate treasure of all: OAO Surgutneftegas.
The Siberian crude producer run for three decades by Soviet-trained Vladimir Bogdanov has amassed about $34 billion of cash, Bloomberg calculations based on company data released April 30 show.
With sanctions over Ukraine having severed Russia from the global financial system, Putin is considering releasing some of Surgut's hoard, one he'd previously called untouchable, say three bankers close to the Kremlin who asked not to be identified because of the sensitivity of the topic.
"Investors are afraid Surgut will not be able to use this money at its sole discretion or that this money will ever benefit shareholders," said Alexander Branis, chief investment adviser of Prosperity Capital Management Ltd., a Moscow-based fund company that owns Surgut shares.
Putin's spokesman, Dmitry Peskov, declined to comment on Surgut because it's a "private company." Bogdanov declined to comment through his press service.
The 62-year-old president signaled a policy shift on Surgut in March, saying at an event near Moscow that Bogdanov has "major investment plans," adding, "there is work to do."
An option that may be considered would benefit one of Putin's closest allies, OAO Rosneft chief Igor Sechin, the bankers and a senior government official said.
In this scenario, Surgut would buy the 19.5 percent stake in Rosneft the state plans to auction, giving Sechin a partner who could help refinance $23.5 billion of debt coming due, they said.
Such a deal would revitalize Rosneft, the world's largest publicly traded oil company by output, and benefit the whole energy industry, which provides the bulk of the government's revenue, according to the official.
Using Surgut to support Rosneft would also take some of the strain off the government, which is working on funding measures to help companies through the country's first recession in six years.
Rosneft is seeking 1.3 trillion rubles ($25 billion) from one of the government's two rainy-day funds, an amount the Economy Ministry has said can't be met in full.
The government has said it will offer Rosneft stock for no less than it did during the company's $10.7 billion initial public offering in 2006, when the shares were priced at $7.55 apiece.
Rosneft's London-traded shares have tumbled 20 percent in the last year to about $5.15, valuing the company at $54 billion. Surgut is little changed in the period, keeping its valuation at about $26 billion.
Putin's influence helps explain why the company's market value is about $8 billion less than its liquid assets, according to Prosperity Capital's Branis. Surgut has paid more than $10 billion in dividends over the past decade.
Bogdanov, 63, believes that everything Putin does is right for Russia and says he'll use the financial resources of Surgut, which he calls "the people's company," in whatever way the president requests, Alexander Ryazanov, a former deputy head of gas exporter OAO Gazprom, said in an interview.
"He knows he can't use this money personally," said Ryazanov, who has known Bogdanov for more than 20 years. "He told me several years ago that he can only have the interest, which can be $1 billion a year. He's quite satisfied."
Most of the money is in long-term deposits at the three biggest state banks, OAO Sberbank, VTB Group and OAO Gazprombank, regulatory filings show. Sberbank holds about $14 billion, VTB about $7 billion and Gazprombank about $3 billion, according to the bankers.
Most of the rest is held by the local unit of Italy's UniCredit SpA, accounting for more than half of its deposits, they said.
Sberbank, VTB, Gazprombank and UniCredit all declined to comment on Surgut through their press services.
How Surgut's cash is ultimately deployed is something investors suspect only Putin can decide.
Putin and Sechin have known Bogdanov since the early 1990s, when they were in the St. Petersburg mayor's office and Surgut exported products from a nearby refinery through a company run by future billionaire Gennady Timchenko, according to Andrey Katkov, Timchenko's partner at the time. When Putin first ran for president, in 2000, Bogdanov helped fund his campaign, two of the bankers familiar with his finances said.
Nicknamed the "Siberian hermit" — in the media and among associates because he rarely leaves his hometown of Surgut, where he likes to walk to work and spend vacations tending his mother's garden — Bogdanov is the keeper of one of corporate Russia's most closely guarded secrets: Who actually controls the nation's fourth-largest oil producer?
One of the last so-called red directors, or former Soviet managers still in charge, Bogdanov employs about a third of the city of Surgut's 300,000 residents and runs the company with an iron fist, yet officially he owns less than 1 percent of its stock.
"He's more like a very good hired manager than a co-owner," said Ryazanov, the former Gazprom executive.
Neither Surgut nor the government will say who ultimately controls the network of legal entities that together hold about 70 percent of the company.
Thousands of investors own the rest, including Norway's sovereign wealth fund, one of the largest foreign shareholders with about 0.65 percent of the company, data compiled by Bloomberg show. The fund declined to comment on this investment.
Bogdanov's twin passions are drilling for oil and pinching pennies, according to Katkov. He's been able to save so much money because he never borrows, keeps capital investments to a minimum and avoids acquisitions, Katkov said.
His sole major purchase came in 2009, when Surgut bought 21 percent of Mol Nyrt., Hungary's largest refiner, prompting the government in Budapest to warn of a hostile takeover. Hungary paid Surgut 1.88 billion euros ($2.1 billion) two years later to exit the company, earning it a profit of about 500 million euros.
"You don't need much of a brain to spend money," Bogdanov said at a rare media event back in 2002, when Surgut's cash pile reached $4 billion for the first time and reporters wanted to know what he planned to do with the money. "Wait and see. Everything is done intelligently."
Bogdanov cemented his hold over Surgut in the mid-1990s, when then-President Boris Yeltsin's cash-strapped government auctioned off Russia's industrial jewels for loans it never repaid. Surgut's pension fund acquired 40 percent of its parent company for what was then less than $100 million.
After changing the structure several times, Bogdanov would eventually come to shield Surgut behind two dozen legal entities with interlocking ownerships, according to the bankers.
These firms are all registered in Surgut by current or former employees and none has more than 5 percent at any given time in order to avoid disclosure requirements, they said.
William Browder, the US-born investor who was once the largest foreign owner of Russian stocks, was barred from the country in 2005 while trying to force greater disclosure at companies such as Surgut and Gazprom.
He was suing Surgut at the time, arguing that management illegally controlled 62 percent of the voting stock through so-called treasury shares. The case was rejected a month after Russia annulled Browder's visa, calling him a "threat to national security."
A decade later, Browder, who once called Bogdanov "the Saddam Hussein of Russian business," is still not sure who made the decision to bar him or why. "The two outstanding theories" have to do with "the trouble I was making" for Surgut and Gazprom, Browder said by phone from London.
"Surgut is one of the largest oil companies in the world and it's totally nontransparent," Browder said. "Why does nobody know who owns this company?"
Recommended for you

Is a new global oil supercycle looming?