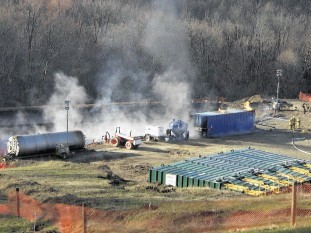 A study says fracking has the potential to unlock 140billion barrels of global oil supplies.
The amount would be equivalent to Russia's known reserves, according to analysis by IHS.
According to the report, countries such as Iran, Mexico, China and Russia are likely to benefit most from exploiting techniques in the US shale revolution.
It was also found that two thirds of the extra recoverable oil would come from the Middle East and Latin America.
The IGS said as much as 141billion barrels could be unlocked – with 40billion of these barrels in Iran.
Mexico could also have an estimated 14billion recoverable barrels.
The fields which could benefit from new technologies includes Algeria, Kazakhstan and Libya.
More than 170 mature oil plays across the world were examined by IHS.