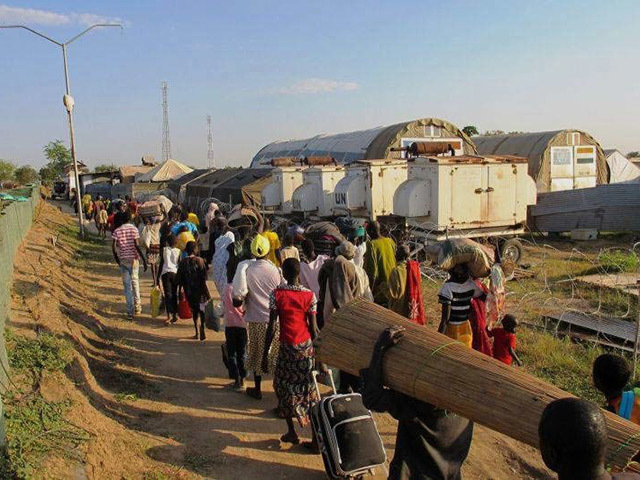 South Sudan's government denied claims by rebel forces that they've seized oil fields in the north of the country after clashes in the region.
Lony T. Ngungdeng, a spokesman for insurgents loyal to former Vice President Riek Machar, said on Tuesday that the fighters took control of facilities in Upper Nile state, which are still producing crude.
Fighting is taking place around Malakal, the state capital, and Akoka, Information Minister Michael Makuei Lueth said by phone Wednesday from South Sudan.
"The rebels have not even reached the oil fields," he said. "Government forces are in full control of the oil fields, rebels have no presence there."
South Sudan has sub-Saharan Africa's biggest oil reserves after Nigeria and Angola, according to BP Plc data. Its low-sulfur crude is prized by Japanese buyers as a cleaner-burning fuel for power generation.
Before the fighting broke out, China National Petroleum Corp., Malaysia's Petroliam Nasional Bhd. and India's Oil & Natural Gas Corp. pumped most of the country's oil.
The oil fields at Paloch in Melut county in Upper Nile were captured in partnership with fighters led by Johnson Olony, whose split from the government last month has reinvigorated the rebels, said Mabior Garang, a spokesman for Machar's insurgents.
Officials at a United Nations base in Upper Nile reported hearing three explosions in the area and a nearby UN protection camp received 270 displaced people, Farhan Haq, a deputy spokesman for the UN secretary-general, said on Tuesday in New York, according to an e-mailed copy of his remarks.
"There was fighting in Melut town, but rebel forces have been repulsed," Lueth said.
Clashes have occurred sporadically in three states of South Sudan since a power struggle within the ruling party turned violent in December 2013. Areas in and around oil-producing regions have changed hands between the rebels and government forces several times during the unrest.
Recommended for you

Report: Rich nations including UK 'must end oil and gas by 2034'