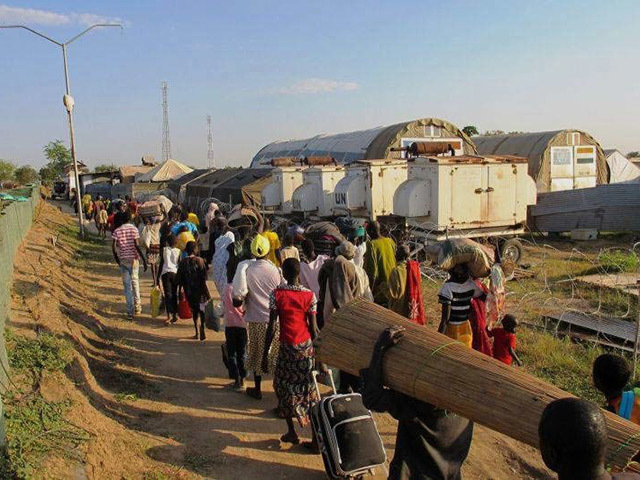 After 17 months of civil war spanning a swathe of South Sudan bigger than Syria, President Salva Kiir's survival may hinge on the fate of a single oil field.
Paloch in Upper Nile state, the only region still pumping crude in a nation with sub-Saharan Africa's third-largest reserves, has re-emerged as the rebels' prime target.
While the insurgents probably couldn't find a market for its oil, the facilities' capture or damage could spell disaster for a government that's battling surging inflation and a slumping currency, and which depends on crude for about 90 percent of its income, according to analysts including Alex de Waal, executive director of the World Peace Foundation at the Fletcher School in Massachusetts.
"The outcome of the war will be determined by who is able to sustain sufficient spending to keep their political-military coalitions functional," de Waal said.
"The current financial collapse in South Sudan is indicative that the government is losing badly on this front."
State-owned China National Petroleum Corp. is the biggest operator in South Sudan, while Japanese buyers prize the country's low-sulfur crude as a clean-burning fuel for generating power.
While the seizure of Paloch could deliver a fatal blow to Kiir's presidency, rivalries within the armed opposition prevent a smooth transition of power and could prolong violence that has already killed tens of thousands of people.
"Oil is South Sudan's bread and butter," Luke Patey, who researches the industry at the Danish Institute for International Studies in Copenhagen, said.
It's "vital for President Kiir in maintaining the last fragments of political cohesion."
Fighting that began in December 2013 has slashed oil output by at least a third to about 165,000 barrels per day, the Oil Ministry said last week. Unity, the only other crude-producing state, has been out of action since the war erupted.
In January, Frontier Economics, based in London, estimated the war could cost the economy as much as $28 billion if it continues for the next five years, with neighboring countries facing even bigger losses.
Before the conflict, CNPC, Malaysia's Petroliam Nasional Bhd. and India's Oil & Natural Gas Corp. pumped most of the oil. A 40 percent slump in global crude prices over the past year has also reduced South Sudan's revenue.
In the capital, Juba, where the ruling party's split first turned violent, visitors report soaring prices for essential goods and fuel shortages while the currency has lost half its value on the black market in the past six months.
Annual inflation accelerated to 23 percent in April from 13.7 percent a month earlier, according to the National Bureau of Statistics. South Sudan's pound was trading at as much as 14 per dollar on the black market last week, compared with about 6 per dollar in January, according to informal currency traders in Juba including Peter Manyiel.
Jok Madut Jok, who lectures in African studies at Loyola Marymount University in California and visited his homeland last week, said price rises for everything from construction materials to food and medical supplies have put them "already beyond everyone's reach."
South Sudan is facing a "desperate situation," said Toby Lanzer, United Nations humanitarian coordinator in the country.
"Our impression is the central bank has no reserves," he said by phone from Juba. "We are under the impression the Treasury is empty.
Income from petrol is down 75 percent, the currency is depreciating sharply against dollar, and the gap between the official rate and the parallel is widening ever faster."
An International Monetary Fund report in December said the central bank tried to devalue the pound by 34 percent in November 2013 only for the move to be reversed because of "vested interests."
Rationing of foreign currency "entails a hidden transfer of resources from the government to those with privileged access to foreign exchange at the official rate," the IMF said.
Presidential spokesman Ateny Wek Ateny didn't answer two calls from Bloomberg seeking comment on the economy.
If the rebels seize Paloch and immediately shut down production, the damage could hamper long-term output for whoever's in government, said Patey.
"A long closure will severely damage the pipeline or even render it obsolete," he said. "This outcome will cripple South Sudan's oil industry for years.
Sudan, which transports landlocked South Sudan's oil via pipelines to a port on the Red Sea, said its neighbor's flailing economy is "a big concern."
Unrest could have an impact on the oil transfer fees Sudan receives from the south, as well as spur a further wave of refugees and create insecurity along the border, Foreign Ministry spokesman Ali al-Sadig said by text message.
Jok said that the war probably won't have a clear victor and a lack of key resources could render the state ungovernable.
"If the rebels shut the oil, the government can only be for so long," he said. How rebels "would deal with the state with no resources is not clear either."
Recommended for you

TotalEnergies to use oil cash to speed growth in LNG, renewables