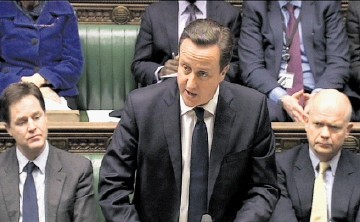 The UK aims to maximize domestic oil and gas production and curb the spread of onshore wind farms as the government leans toward maintaining energy security over cutting carbon emissions.
The measures form part of an Energy Bill announced by Queen Elizabeth II in a speech to Parliament in London on Wednesday that outlines the first legislative program of Prime Minister David Cameron's majority Conservative government.
UK oil production was enough to meet about 56 percent of domestic demand last year, with a similar proportion for gas, according to the government.
Even so, a drop in oil prices of more than 40 percent in the past year rendered as much as a third of UK fields uneconomic, BP Plc Chief Executive Officer Bob Dudley said in February.
That's led to government tax cuts to shore up the industry amid warnings that thousands of jobs may disappear.
"Given the right business conditions which promote investment, the U.K.'s oil and gas industry can continue to supply a significant proportion of our needs to 2020 and beyond," the government said in a written statement.
"One of the main benefits of the bill is "maximizing the economic recovery of offshore oil and gas reserves, prolonging the life of the basin and helping to ensure our energy security."
The draft law will outline plans to hand over powers to the Oil and Gas Authority from the government, allowing it to become an independent regulator of the industry.
It will also remove the need for the energy secretary to approve onshore wind farms over 50 megawatts, in effect transferring consenting powers to local authorities in England and Wales. The changes won't affect the planning process in Scotland and Northern Ireland's devolved administrations.
The government in its manifesto pledged to end subsidies to onshore wind farms, the cheapest form of large-scale renewable power. That promise will be delivered through separate changes to be announced soon by the energy department, according to the government statement.
"We will continue to reform the electricity market to ensure the necessary investment is made to transition to a low carbon electricity system at the lowest cost to consumers," the government said.
Recommended for you

Project Pathfinder: Where are the new projects in the North Sea?