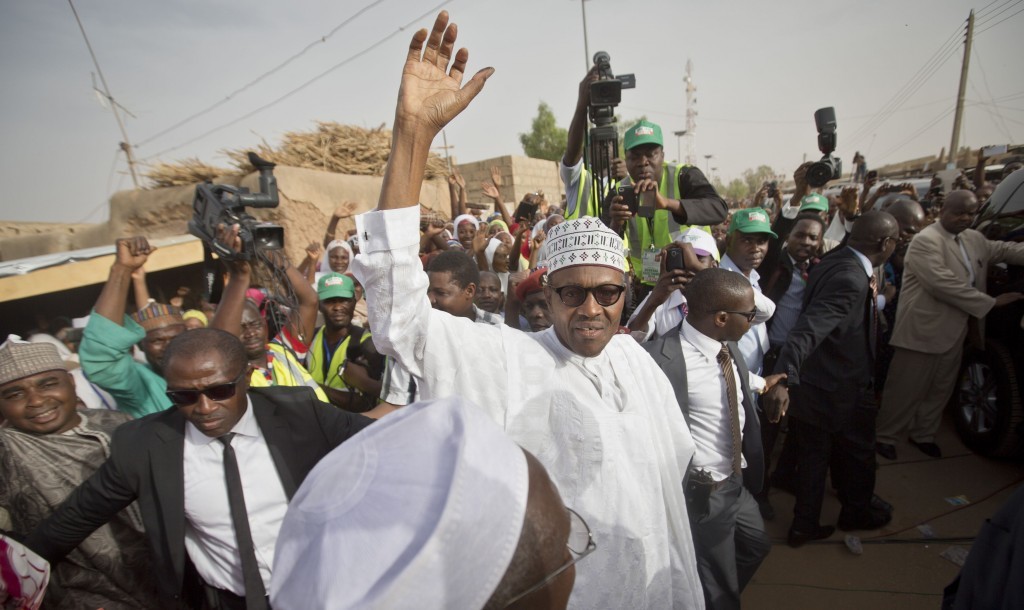 He takes over a nation in crisis, with an Islamic uprising that has made 1.5 million people homeless and coffers emptied by massive corruption.
Similar crises confronted him when he ruled briefly as a military dictator in the 1980s.
The 72-year-old says a similar prescription more judiciously imposed by a "born-again democrat" can heal the woes of Africa's biggest nation, economy and oil producer.
With Nigeria so broke that it is borrowing money to pay government workers, Mr Buhari intends to retrieve ill-gotten gains to fund programmes from education to job creation.
The first Nigerian to oust a sitting president at the polls has a wealth of international goodwill.
Some 50 heads of state are expected at today's inauguration in Abuja, along with US Secretary of State John Kerry, looking to mend broken ties.
The inauguration is being held in Abuja's Eagle Square, where a 2010 twin car bombing and grenade attack by oil militants killed 12 people at Independence Day celebrations.
Mr Buhari must decide how to deal with the militants who are threatening to renew attacks if he does not continue an amnesty programme that has them paid to guard the installations they once attacked.
Former president Goodluck Jonathan, who allowed Boko Haram's nearly six-year-old insurgency to flourish unhindered until this year and was seen as uncaring of the suffering it has imposed in the north-east of the country, won acclaim at home and abroad for graciously conceding defeat.
There were fears of the kind of electoral violence that killed more than 1,000 people in the mainly Muslim north when Mr Jonathan defeated Mr Buhari in 2011 elections.
"You have changed the course of Nigeria's political history," Mr Buhari told Mr Jonathan when he handed over the report of his administration yesterday. "For that you have earned yourself a place in our history, for stabilising this system of multi-party democracy and you have earned the respect of not only Nigerians but world leaders."
Political science professor Richard Joseph, of Northwestern University, said Mr Buhari's victory has hopeful international implications.
"The world desperately needs a victory against cultist jihadism. Nigeria (under Buhari) can provide it," he said. "In no other large country, with an almost equal number of Muslims and Christians, is such a process conceivable."
Mr Buhari was a major general when he defeated another homegrown Nigerian Islamic group in the 1980s.
Mr Jonathan was forced to accept an international intervention from neighbouring countries to curb Boko Haram this year as its uprising spread across Nigeria's borders. His government also hired foreign mercenaries to help train troops even as it halted a US military training programme last year.
Mr Buhari has criticised the need for foreign troops in Nigeria, which has Africa's largest standing army, albeit demoralised and under-resourced by some plundering officers.
"The answer to defeating Boko Haram begins and ends with Nigeria," he has said.
Recommended for you

NNPC buys "very profitable" fuel business from Vitol, Helios