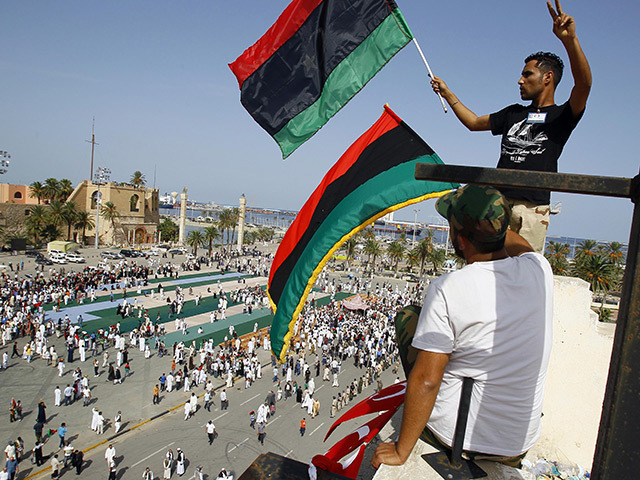 Islamic State strengthened its hold in central Libya, taking territory near Libya's largest oil terminal and repelling efforts by militias to halt its advance.
The jihadist group had been tightening its grip on Sirte over recent months. It claimed on Tuesday to have finally succeeded in taking Muammar Qaddafi's hometown, after overrunning a nearby power station.
Islamic State already controls the desert town of Naufaliya, about 30 miles from Libya's largest export terminal of Es Sider and neighboring Ras Lanuf, the third-largest. Controlling Sirte helps cement those positions on the west side of the so-called Sirte Basin, which is home to about 70 percent of the country's crude reserves.
"It's becoming clear that they're getting more structure and their control of this region is getting more serious," said Riccardo Fabiani, senior North Africa analyst at the London-based Eurasia Group.
Moving in on Ras Lanuf and Es Sider, shut in December following attacks by a separate group of Islamists, is "definitely one of their goals," Fabiani said. "What happens when they reopen and Islamic State is within range? I don't think they could hold on to these facilities but they can definitely overrun them and cause damage."
Es Sider and Ras Lanuf aren't currently under threat, Petroleum Facilities Guard spokesman Ali al-Hasy said by phone on Wednesday. There are forces in place "ready to stop any attack on the oil region," he said.
Islamic State took some eastern areas, such as Derna, last year and is present in Benghazi. The group is benefiting from growing instability since Qaddafi's ouster and death in 2011, with public finances crumbling as oil revenue slies, and two administrations and their allied militias vying for influence. Talks brokered by the United Nations to bridge the divide and form a unity government broke down on Tuesday.
The Islamist-leaning Libya Dawn coalition took Tripoli last summer, forcing the internationally recognized government to move to eastern cities. The country's crude production is about a third of what it was before the rebellion that ended Qaddafi's 42-year rule.
So far this year, Islamic State has claimed several attacks including one on the Corinthia Hotel in the capital in January in which 14 people were killed. In March, the jihadist group released
a video showing the beheading of Egyptian Christians on a beach after they were kidnapped in Sirte.
The battle at the Gulf Power Plant left three fighters from Libya Dawn Brigade dead and several others injured, Brigade Commander Mohamed Alhasan said in a phone interview.
Four new turbines were being installed at the power plant to produce electricity for central and western Libya, but foreign engineers abandoned the project when fighting began in the area last summer, Libya Herald newspaper reported. The one new turbine that was installed broke down within 48 hours.
Libya Dawn fighters from Misrata and other western regions were deployed by the administration in Tripoli weeks ago.
Recommended for you

BP, Total and Conoco talk shop with Libya's NOC