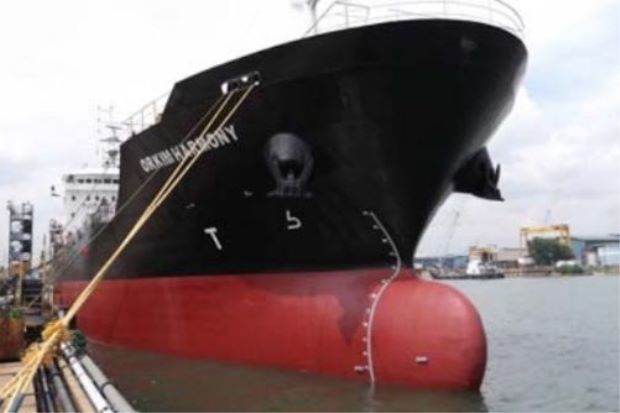 A small-sized oil tanker went missing off the southeast coast of Malaysia close to Singapore over the weekend in what could be the second hijacking of such a vessel this month, maritime officials said on Monday.
The Malaysian Maritime Enforcement Agency (MMEA) said the 7,300 deadweight tonne (DWT) Orkim Harmony disappeared about 30 nautical miles from the Johor port of Tanjung Sedili, carrying 5,879 metric tonnes litres or 50,000 barrels of RON95 gasoline.
The Orkim Harmony is operated by shipping company Orkim Ship Management.
"Orkim Sdn Bhd regretfully confirms the report issued by Malaysia Maritime Enforcement Agency that the Company has lost contact with its vessel Orkim Harmony early morning 12 June," the ship's operator said in a statement.
The MMEA said the gasoline on the ship was owned by state-controlled oil and gas company Petronas. But the Harmony and the vessel hijacked earlier were small compared with the 300,000 DWT of a standard super-tanker, and the missing fuel volumes were not enough to impact markets, traders said.
"Orkim Harmony was on her laden passage from Melaka to Port of Kuantan, having departed on 10 June 2015 at 0930 hours (local time) and originally expected to arrive at the Port of Kuantan on 12 June 2015 also at 0930 hours," the shipper said.
"She was carrying 22 crew members consisting of 16 Malaysians, five Indonesians and one Myanmar national," it said.
The vessel's last known position was southwest of Pulau Aur, Mersing in Malaysian waters, Orkim said. Islands in the area are popular with foreign tourists for their beaches and diving.
Orkim said family members of the crew had been informed and that a 24-hour hotline had been set up to respond to queries.
The shipper said it was working with the search and rescue teams that had been activated to locate the Orkim Harmony.
Attacks on the Rise
Attacks on merchant naval vessels are increasing in Asia, data from the Regional Cooperation Agreement on Combating Piracy and Armed Robbery against Ships in Asia (ReCAAP) showed.
There were 80 actual and attempted pirate attacks in Asia between January and May, up nearly 20 per cent compared with 67 in the same period last year, ReCAAP figures showed.
Of those, there have been eight actual and attempted tanker hijackings and oil thefts, excluding the latest disappearance, compared with 13 for the whole of last year.
Earlier this month, the 7,100 DWT oil tanker Orkim Victory, which was carrying diesel loaded from Petronas, was hijacked on June 4 in the same area and on the same route by a speedboat.
"The perpetrators were armed with two hand guns and one machete … They threatened the crew (comprising eight Malaysians, seven Indonesians and three Myanmar nationals) and reportedly assaulted them, though no injuries were reported," a ReCAAP report said.
"The perpetrators subsequently brought Orkim Victory to another location … and siphoned off 770 metric tonnes (about 6,000 barrels) of automotive diesel oil," it added.