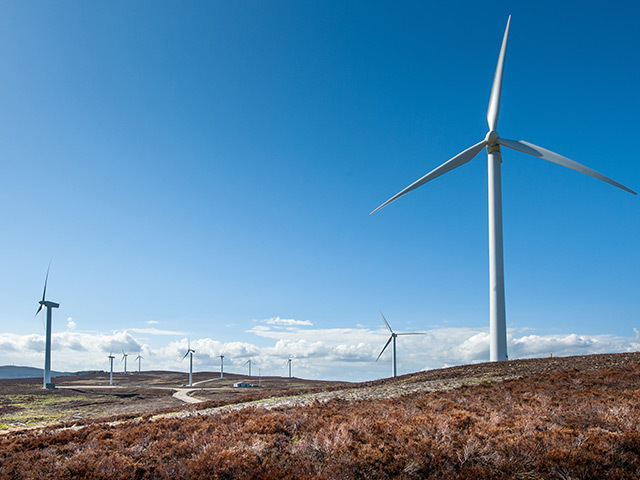 Cutting public subsidies for onshore wind farms would result in job losses, rising energy bills and stranded communities, according to energy minister Fergus Ewing.
The UK Department of Energy and Climate Change (DECC) is expected to announce measures to deliver on the Conservatives' manifesto pledge to end any new public subsidy for onshore wind farms.
Mr Ewing said he was concerned about reports that the new energy secretary Amber Rudd was considering closing the Renewables Obligation scheme – the main support for renewable electricity projects – a year early in 2016.
The move is opposed by the Scottish Government and the industry, which has said it is prepared to take legal action to fight "drastic and unfair" changes.
Mr Ewing told Holyrood's Economy, Energy and Tourism Committee that Scotland would "bear the brunt" of any such reform because 75% of the projects affected are located north of the border.
The policy would result in a "huge amount" of sunk investment in projects that would no longer be able to go ahead, he said.
The energy minister added: "There are three sources of concern. First of all, the consumers will face higher costs of electricity and the reason for that is very simple.
"Onshore wind is the least expensive large-scale method of generating renewable electricity.
"If, as I understand it, the UK Government will have more offshore wind instead of onshore wind, then it's a simple mathematical equation to work out that there will be a huge extra and avoidable cost to the consumer who will have to pay a huge amount more."
Mr Ewing cited Keith Anderson, ScottishPower's chief corporate officer, who has put the cost to consumers of prematurely halting onshore wind at between £2 billion and £3 billion.
"I would have thought that the UK Government would have wished to avoid exposing the consumer to necessary cost," Mr Ewing said.
"That does not seem to me to be a sensible or indeed a rational decision to take."
He continued: "The second group of people who I think will suffer greatly is communities.
"If there is a Damoclean sword that is going to be swiped on projects, community projects that cannot get grid connections because they have difficulty we believe in getting grid connections on the distribution network, will be left stranded and may well be the first to say 'the game's a bogey, we can't go ahead with these projects'.
"Lastly, of course, the sunk investment in the schemes that may not go ahead will cost a number of jobs, a significant amount of investment."
The UK Government has said it will consult with the devolved administrations before any final decision is made on the reforms.
The committee, which is conducting an inquiry into the security of Scotland's energy supply, also heard from John Fiennes, director of energy strategy in networks and markets at DECC.
He told MSPs: "I personally don't think there would be a major issue from the security-of-supply point of view as the Government moves forward on its manifesto commitment, but I should say that this is fairly early days, we are thinking about this back at the shop and I hope there will be more details of that soon.
"On the impact on the supply chain and commercial investment, that is absolutely something which is in the minds of ministers and they'll be factoring that in when they develop the plans that they have to meet their manifesto commitment."
Recommended for you
X

Gazprom's Turkish pipeline talks expected to resume next week