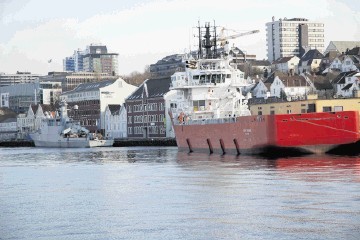 Norges Bank cut interest rates for a second time since oil prices collapsed to avoid a recession in western Europe's biggest crude producer.
The overnight deposit rate was cut by 25 basis points to a record low 1 percent, the Oslo-based central bank said. The decision was forecast by 16 of 17 economists surveyed by Bloomberg, while one saw no change. The bank signaled it may cut rates further.
"The current assessment of the outlook for the Norwegian economy suggests that the key policy rate may be reduced further in the course of autumn," Norges Bank Governor Oeystein Olsen said in a statement. He's scheduled to speak at a press conference at 10:30 a.m. in the Norwegian capital.
After cutting in December to mitigate the risks of an oil induced slowdown, Olsen kept rates unchanged in March and May, but signaled a 100 percent chance of more easing by June. A slowdown in Norway is coinciding with a return to extreme easing in neighboring regions. The European Central Bank is buying debt to add to its stimulus, while policy makers in Sweden and Denmark have cut rates well below zero.
"We're going to see an intensified slowdown in the oil related industries, which will damp mainland GDP growth and push unemployment upwards," Frank Jullum, chief economist for Danske Bank A/S in Oslo, said before the rate decision. Growth in Norway will start to stabilize at the end of this year, he said.
Low oil prices are already taking their toll. Planned job cuts in Norway's oil and gas industry will exceed 20,000 as those companies adjust to the new market, according to DNB Markets.
A quarterly survey of oil companies by the country's statistics agency released last week showed they see investments falling 11 percent this year from a record in 2014, and a further 3 percent in 2016. The central bank in March predicted declines of 15 percent and 10 percent this year and next.
While the slump is forcing the central bank to adjust its view on how to spur growth in the $510 billion economy, policy makers aren't facing the disinflationary pressure that has hit Sweden and other parts of Europe. Underlying consumer prices gained 2.4 percent last month, close to the bank's 2.5 percent target.
Recommended for you

Norway to raise $3bn from resource, windfall taxes on wind and hydropower