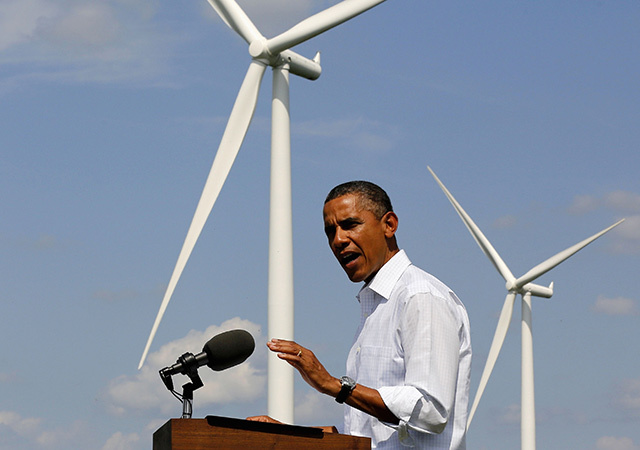 High noon for the Obama administration's stricter rules for fracking on public lands has arrived on the Wyoming range.
Four western states at the center of the shale oil boom are headed for a courtroom showdown Tuesday over who should have the last word on rules for extracting oil and natural gas from federal property within their borders.
The U.S. government says it can set standards for more than 100,000 wells that make up 11 percent of the nation's natural gas output and 5 percent of its oil. The states argue they're doing plenty to make sure fracking is done safely, so oversight should be left to them. With the new rules set to take effect Wednesday, U.S. District Judge Scott Skavdahl in Casper, Wyoming, may decide in court who is right.
Producers say they can't afford the increased costs and lengthy delays they fear will accompany the new federal rules. Drillers are already struggling because of falling oil prices, which has led to a spate of bankruptcies and missed bond payments. Oil dropped from more than $100 a barrel to as low as $44 in March, undercutting the "shale gale" that drove U.S. production to near record levels.
"This is far more driven by the Obama administration saying it wants to do something on hydraulic fracturing," Dan Naatz, vice president of the Independent Petroleum Association of America, said in an interview. "The process in place now does a great job."
Federal officials say they'll yield to existing state regulations when they're as good or better than U.S. standards.
Public Confidence
"As we continue to offer millions of acres of public lands for conventional and renewable energy production, it is absolutely critical the public have confidence that transparent and effective safety and environmental protections are in place," U.S. Secretary of the Interior Sally Jewell said in March.
About 90 percent of the wells on federal land rely on hydraulic fracturing, or fracking, the pumping of sand, water and chemicals to free natural gas and oil within subterranean rock. While fracking has catapulted the U.S. to world leadership in oil production, it's also been blamed for air pollution, tainted groundwater and even earthquakes.
The new rules, announced in March by the Bureau of Land Management, require drillers to ensure the structural integrity of wells and disclose the chemicals injected into them. The bureau, the biggest U.S. landowner, oversees about 700 million acres of underground mineral rights.
Federal Stewardship
The rules are "premised on the unexceptional notion that the BLM, the federal agency charged with management and stewardship of those lands, would be able to set terms and conditions for their use," federal officials argue in court filings.
The petroleum association and the Western Energy Alliance sued in March to block the federal rules. Wyoming followed with its own lawsuit, which was soon joined by Colorado, North Dakota and most recently Utah.
Each sits atop oil-rich shale: the Green River Basin in Wyoming, the Uinta Basin in Utah, the Piceance Creek Basin in Colorado and the Bakken Formation that has made North Dakota the second-biggest U.S. producer behind Texas.
A study prepared for the Western Energy Alliance estimated the federal rules will add $97,000 to the cost of each well. Federal officials estimate the additional cost at $5,500 per well.
The case is State of Wyoming v. U.S. Department of the Interior, 15-cv-00043, U.S. District Court, District of Wyoming (Casper).