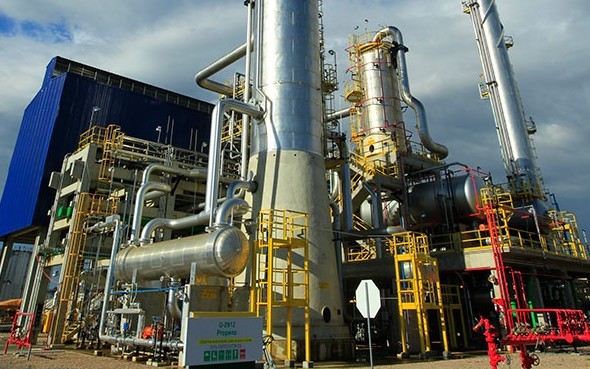 Petroleo Brasileiro SA is heading into a Manhattan courtroom Thursday to ask a judge to throw out investor lawsuits triggered by the multibillion-dollar bribery scandal that's rocking Brazil's economy and its political elite.
Less than a week after police detained the chief executives of Brazil's two biggest builders in connection with the kickback probe, the state-owned energy giant is asking that the investor cases be dismissed, saying it was swindled by renegade employees who traded construction contracts for payoffs.
The investors, led by a Liverpool, England-based pension fund, claim the scandal helped knock tens of billions of dollars off Petrobras's market value.
Eight suits filed on behalf of stock and bond investors have been bundled before U.S. District Judge Jed Rakoff for preliminary matters, including the effort by Petrobras to have them thrown out.
The investors want compensation for their losses, plus damages from Petrobras for allegedly issuing misleading financial statements and overstating the quality of internal controls.
In seeking dismissal, Petrobras has argued that it was victimized by a "criminal cartel of Brazil's largest construction and engineering companies" and "rogue politicians" who stole its assets.
Erik Gordon, a professor at the University of Michigan Ross School of Business, said that could be a tough story to sell Rakoff.
Tough Sell
"Petrobras might find it difficult to convince him that all the misconduct it alleges it is a victim of is likely to have happened without it at least questioning the goings on," Gordon said.
Petrobras has said it didn't pay bribes and didn't know contractors were overcharging to cover the cost of the payoffs. If anything, the bribery increased the expense of its projects, the Rio de Janeiro-based company has stated.
Peter Henning, a law professor at Detroit's Wayne State University, said the damage shareholders and bond buyers allegedly suffered doesn't get into Enron Corp. territory. That Houston-based energy company's investors won about $7 billion from banks they accused of aiding the fraud. The Petrobras case might cost the Brazilian company around $1 billion, he said.
Government Investigations
But Petrobras also has to worry about potential fines from probes by the U.S. Securities and Exchange Commission and Justice Department, and possible penalties for violations of U.S. anti-corruption laws, said Henning, a former SEC lawyer.
Mitchell Lowenthal, a lawyer for Petrobras at Cleary Gottlieb Steen & Hamilton LLP, declined to comment on estimates of the possible cost to the company of the litigation and the U.S. probes.
The company eventually wrote off about 6.2 billion reais ($2 billion) that it attributed to overpayments built into the contracts, calculating that the bribes inflated those contracts by about 3 percent.
The investors put the total loss of Petrobras's market value at about $270 billion. In 2010, when it was valued at $310 billion, Petrobras was the world's fifth most valuable company, although the slump in oil prices may have the biggest influence on the stock. The company's current value hovers near $60 billion.
Eight Suits
The Manhattan class action, led by the law firm Pomerantz LP and its client Universities Superannuation Scheme Ltd., includes at least eight separate lawsuits on behalf of everyone who bought Petrobras shares or bonds in the U.S. from 2010 to March 2015. The judge has yet to officially certify the class, which would allow investors to pool resources and sue as a group.
The dismissal hearing comes after the June 19 detention of Marcelo Odebrecht, head of one of Brazil's largest family businesses, Odebrecht SA, and Otavio Azevedo of Andrade Gutierrez SA, accusing them of knowing of the scheme. Both the executives and their two companies deny wrongdoing.
Petrobras employees arrested or charged in the scheme sat on the board with executives who routinely boasted about the company's prospects and financial controls, the investors said. Two executives have been sentenced for crimes including money laundering, while a third awaits sentencing.
Under Brazilian law, Petrobras is a genuine victim as it didn't benefit in anyway from the scheme and had to shoulder all corruption costs, prosecutors there have said.
But in the U.S., there's a catch, said Gordon, the Michigan professor. Even if the company's claim to be a victim is credible, it's still responsible for any misleading statements in its disclosures to investors.
The case is In re Petrobras Securities Litigation, 14- cv-09662, U.S. District Court, Southern District of New York (Manhattan).
Recommended for you

Exxon's emissions-reduction pledge lags supermajor rivals'