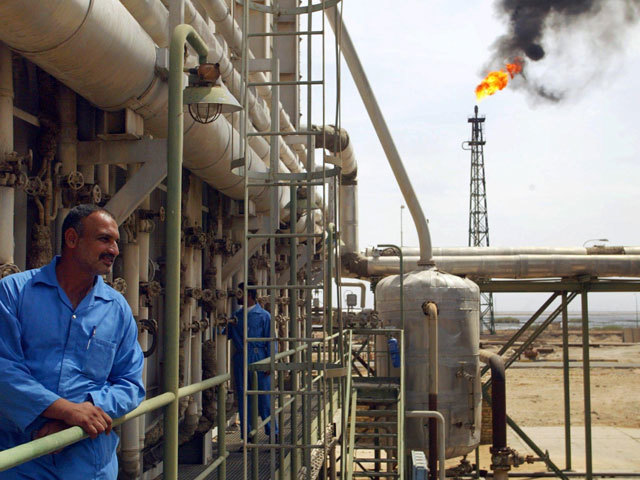 Iraq's self-ruling Kurds are threatening to bypass the country's central government and sell oil produced in the neighboring Kirkuk region in a dispute over revenue from crude sales by OPEC's second-largest producer.
The Kurdistan Regional Government in northern Iraq will directly export crude produced in Kirkuk, an oil-rich area adjacent to KRG territory, if the central government doesn't pay for Kirkuk's budget, said Safeen Dizayee, a spokesman for the KRG. The government in Baghdad hasn't made the payments as it agreed to do under a revenue-sharing accord with the Kurds, Dizayee said in an interview posted Wednesday on the KRG's official website.
Iraq's government rejects any "unilateral solution, as it contradicts the agreement as well as the budget law and harms everybody at a time we need to be united," the prime minister's spokesman, Saad Al-Hadithi, said by phone from Baghdad.
The KRG and central government agreed on Dec. 2 that Iraq's state-run marketing agency would be responsible for the sale of all crude produced in the country. The failure of the two sides to settle their differences over how to share revenue from oil sales exacerbates uncertainty about crude supplies from northern Iraq, one year after Kurdish troops occupied Kirkuk and nearby oil fields to defend them against Islamic State militants.
"It's certainly not looking good for the agreement," Robin Mills, a Dubai-based analyst at Manaar Energy Consulting, said in an e-mail. "Neither side fully lived up to its commitments under the agreement, and there is not enough trust to rely on the other's good faith."
Iraq is pumping and exporting crude at record levels even after Islamist rebels seized much of the northwestern part of the country. Its output last month was 4.39 million barrels a day, second only to Saudi Arabia among the 12 members of the Organization of Petroleum Exporting Countries. Most of Iraq's oil-producing areas lie in the south of the country, unscathed by fighting to the north.
Recommended for you

OPEC+ sticks to small supply hike as EU eyes Russia oil ban