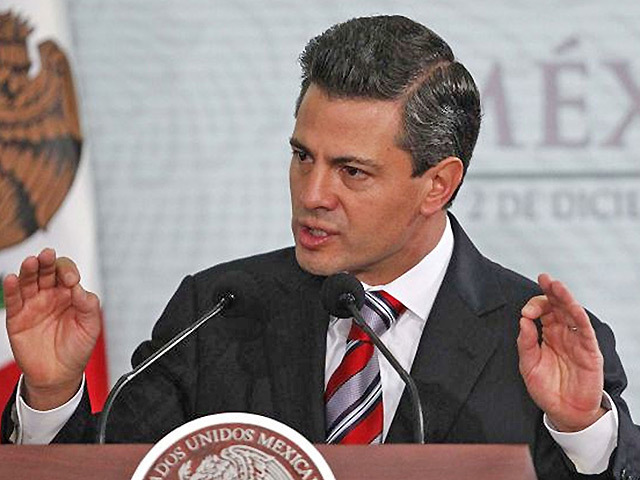 Mexico President Enrique Pena Nieto's credibility on law and order was damaged this weekend by the prison escape of the nation's most famous drug trafficker. Now he's about to be tested on his pledge to attract private investment to the flagging oil business and help revive the economy.
On Wednesday, the government will hold the first in a series of petroleum auctions that will help open the energy industry, bringing in an estimated $62.5 billion by 2018 and increasing annual output by 500,000 barrels a day. The exploration and production contracts, the first since then- President Lazaro Cardenas nationalized the fields in 1938, will end the monopoly of state-owned Petroleos Mexicanos, or Pemex.
The success of the auctions also will determine whether Pena Nieto, 48, can reverse a decade-long decline in crude output and fulfill his pledge to double the pace of economic expansion by the time he leaves office in late 2018. The output drop and an almost 50 percent plunge in oil prices during the past year have forced Mexico to trim government spending and sweeten the auction-contract terms for prospective bidders.
"This process is vital," said Vicente Fox, a former president whose election in 2000 broke seven decades of rule by Pena Nieto's Institutional Revolutionary Party. "This is the great opportunity for Mexico to mobilize its economy and reach 5 percent growth rates, something we haven't been able to achieve in the past 30 years."
Recapture Momentum
The auctions give Pena Nieto, who took office in 2012, a chance to recapture momentum for his economic initiatives after a year in which drug violence and conflict-of-interest accusations about home purchases plagued his administration.
He suffered an embarrassing setback over the weekend when Joaquin Guzman, Mexico's most famous drug trafficker, escaped from prison for the second time, an event Pena Nieto had said his government must never let happen and would be "unforgivable."
Wednesday's auction covers 14 shallow-water blocks in the southeastern Gulf of Mexico. Seven groups and 17 companies — including two of the world's largest, Exxon Mobil Corp. and Chevron Corp. — have prequalified to bid. Mexico will auction onshore fields later this year, followed by auctions of deep- water and shale fields. Fox said he is working with a private- equity fund that eventually plans to participate.
Production Revolution
The energy overhaul also is designed to boost the natural- gas industry, helping to lower electricity prices for homes and manufacturers, and spawn a revolution in production from shale in the nation's north.
"This is a very, very important change," said Angel Gurria, a former Mexico finance minister who heads the Organization for Economic Cooperation and Development. "This can detonate large packages of investment."
Allowing private participation in the oil industry is a titanic shift for a nation where generations of schoolchildren were taught to take civic pride in Pemex and where speeches and ceremonies mark the anniversary when fields were seized from U.S. and British companies, Gurria said.
When Cardenas ousted the Mexican branches of Royal Dutch Shell Plc and other companies more than 70 years ago, Mexicans lined up to donate jewelry and livestock to the government to help pay for the expropriation. Energy was such a sensitive issue it was largely left out of the 1994 North American Free Trade Agreement signed by Mexico, the U.S. and Canada.
"We grew up assuming, just as a matter of fact, that oil and electricity and gas were state-owned, and that was the way it was, period," said Gurria, who worked at a Pemex refinery as a teenager and served on the company's board in the 1990s.
Significant Accomplishment
Just changing the law to allow private investment was a significant accomplishment for Pena Nieto, according to Gurria. The president needed to rally two thirds of each house of congress over opposition that spawned public protests.
Pena Nieto pushed the legislation through in 2013, amending the constitution to permit private and foreign companies to explore on their own for the first time since 1938 or partner with Pemex on oil production.
Changing the rules to allow private investment "would be my signature issue," he said during a November 2011 interview at Bloomberg's headquarters in New York, when he was running for president.
While the government says the changes will help boost output and tax revenue that accounts for about a third of federal spending, the administration also passed a package of tax increases to reduce dependence on oil. The Mexican mix of crude has tumbled almost 46 percent in the last year to close Friday at $51.37 a barrel.
Cut Spending
Pena Nieto was forced to cut spending in January after Pemex production fell for a 10th consecutive year and global oil prices slumped. The government projects output will fall again this year. The decline has reduced Mexico to the world's 10th largest producer of petroleum and other liquids, down from fifth in 2004, when it trailed only Saudi Arabia, Russia, the U.S. and Iran.
In opening its energy industry to private investment, Mexico is playing catch-up with other developing countries, including Brazil, which enacted a law in the 1990s ending its oil monopoly. Petroleo Brasileiro SA sold $70 billion in a 2010 stock offering, the world's largest. Pemex has no immediate plans to sell shares, the company has said.
Temper Expectations
Mexico's government in recent days has moved to temper expectations for this week's auction as some potential bidders, including Glencore Plc and Ecopetrol SA, decided not to participate, without providing a reason. Energy Minister Pedro Joaquin Coldwell said the government will consider it a success if 30 percent to 50 percent of the blocks are awarded, in line with the average for similar auctions around the world.
Some companies may wait to bid in later rounds on more lucrative deep-water fields, which would be "the acid test," said Duncan Wood, director of the Mexico Institute at the Woodrow Wilson International Center for Scholars in Washington.
This week's event still will probably be a political success for Pena Nieto, even after the rout in crude prices, said Alexis Milo, the chief Mexico economist at Deutsche Bank AG in Mexico City.
"At current oil prices, these shallow-water fields are attractive," he said. "The auctions will be positive for the Pena Nieto administration because they'll show in an emblematic way that the energy reform is moving forward."
Recommended for you

New Gunvor bribery 'skeleton' haunts oil tader's pledge to reform