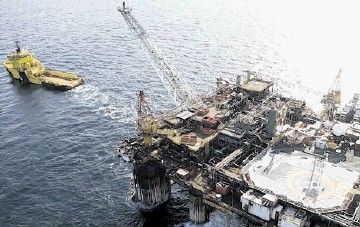 Oil company Ithaca has had its credit rating cut following the oil price crash and delays to first oil from its North Sea field.
Ratings agency Standard and Poors has lowered Aberdeen-based Ithaca's risk assessment to negative from stable and issued a warning that it could further lower its rating if Ithaca does not reduce its debt in 2016.
Ithaca's financial risk profile has been affected by the delay in the start of production at the Greater Stella Area (GSA) in the North Sea, which is expected to begin by mid-2016.
Standard and Poors warned of a further ratings cut if there were any  unexpected operational issues, or if the GSA is subject to further material production delays before scoring Ithaca as a "B".
It said: "Ithaca posted financial results that were below our expectations in 2014. The lower oil price environment will also weigh on the company's cash flow in 2015, although cash flow is partially protected by the hedges Ithaca has in place."
Its assessment was based on a Brent oil price of $55 per barrel in 2015, $65 in 2016 and $75 in 2017, Greater Stella producing first oil from mid-2016 and the sale of its Norway subsidiary, Ithaca Norway. It is also dependent on a significant production increase toward 24,000 barrels of oil equivalent mark by 2017 and a decrease in the overall contribution of gas from 95% in 2015 to 65% in 2017.
Standard and Poors said the delay in the start of production at Greater Stella would result in a "much weaker" financial risk profile in 2015 and 2016 than it previously anticipated. The outlook revision reflects the pressure on Ithaca's financial profile from weaker cash flow generation because of the oil price, combined with the increase in debt stemming from high capital expenditure (capex).
Ithaca operates almost exclusively on the UK Continental Shelf with an interest in 13 production fields. Its business model is to focus on production and development, rather than riskier exploration activities.
The ratings agency did offer an optimistic note when it said: "We could revise the outlook back to stable when we have certainty on the timing of the start of production at the GSA development, assuming no change in Ithaca's financial policy."
Recommended for you

Well-Safe unveils Spirit Energy as first contract for Defender rig