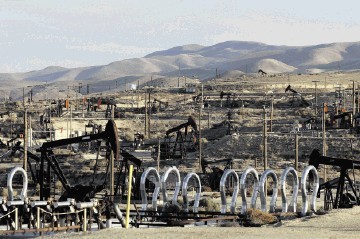 Halliburton has signed a joint venture with BlackRock for $500million to help fund drilling of existing shale wells in the US.
The decision is the first such move by a major oilfield services provider at a time when oil producers have been shying away from drilling new wells.
Halliburton has said it expects to see an "uptick" in activity – including refracking – later this year and a meaningful recovery in 2016.
Earlier this week the company revealed profit overall has dropped 93% to $53million in the quarter, while total revenue fell 26.5% to $5.92billion.
Halliburton's president Jeffrey Miller said though venture was in a "relatively small market", the company "see significant runway for refract in the future."
Oil and gas companies have said refracking is still too unpredictable, but some such as Devon Energy Corp and Chesapeake Energy Corp are using the technology to revive output from existing wells.
The company has seen revenue's from North America drop by 38.5% in the second quarter of the year.
Last year the company announced a $35billion takeover of Baker Hughes, with the deal expected to close in December, after both companies signed a timing agreement with the antitrust division of the US Department of Justice.