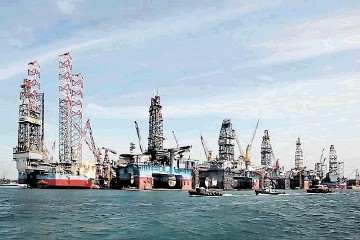 Golar LNG is to develop a third floating liquefaction facility (FLNG), with the conversion of the liquid natural gas carrier Gandria.
As with Golar's first two conversions – the GoFLNG Hilli and GoFLNG Gimi – the primary contract for the Gandria was entered into with Singapore's Keppel shipyard.
The Gandria conversion contract marks the exercise of the second of two options that formed part of the initial 2014 Hilli conversion contract. Black & Veatch will provide its licensed Prico technology, perform detailed engineering and process design, specify and procure topside equipment, and provide commissioning support for the GoFLNG topsides and liquefaction process.
The decision to go ahead with the third conversion project was taken after potential customers showed an appetite for floating liquefaction facilities as early as 2018.
The company said the Gandria conversion will now be dedicated to satisfy the commitments to Ophir in Equatorial Guinea.
Golar believes the current low oil and gas price encourages the GoFLNG concept to develop stranded and associated gas on a fast-track basis.
It is currently working with a schedule which includes delivery of the Hilli at the beginning of 2017, the Gimi around mid-year 2018, and the Gandria in 2019.
In addition to signing the third contract, Golar, Keppel and Black & Veatch have agreed to work out acceptable structures for further GoFLNG facilities
Recommended for you

Choosing fast FLNG to cash in on sky-high gas prices