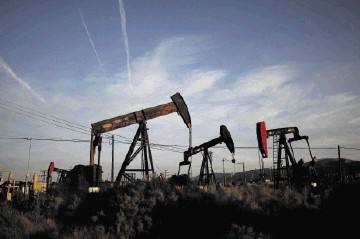 As a flotilla of gasoline tankers steams across the Atlantic Ocean to the US, European motorists are paying more for their gasoline because Americans are driving more than ever.
Surging demand and rising prices for gasoline in the US are luring about double the number of tankers compared with 2014, boosting shipping rates to the highest seasonal levels in seven years.
With so much being exported, fuel prices in Europe have increased almost four times faster than crude since February to the equivalent of more than $6 a gallon.
The flotilla underscores the rising thirst for fuel after oil prices fell by half since June 2014 and the U.S. economy improved. Americans are driving record miles, raising consumption of gasoline and profit margins for refiners.
The International Energy Agency said global oil demand is expected to increase 1.5 percent this year, the most since 2010.
"There's cheap crude and gasoline prices haven't fallen as much so refinery margins are high," Court Smith, an analyst for MJLF & Associates, a Stamford, Connecticut-based brokerage, said by phone July 17. "Globally, refiners are running at high rates so there's more product on the water and people are buying it. It's all good news."
The US has imported 783,000 barrels of gasoline a day in July, on pace to be the highest monthly average since May 2014.
A clean tanker from Europe to the U.S. East Coast cost $23,391 a day, the most for this time of year in data going back to 2008. The Baltic Clean Tanker Index, made up of six international routes, last week touched the highest level since December 2011.
That's caught the attention of traders. Gasoline on the New York Mercantile Exchange is averaging $23.11 a barrel more than Brent oil on the ICE Futures Europe exchange this month, on pace to be the highest spread in records dating back to 2009.
Americans drove 1.26 trillion miles in the first five months of the year, the most ever for that period, according to Federal Highway Administration data. Gasoline demand, weighted on a four-week average, is the highest since 2007. Prices at the pump in the U.S. averaged $2.74 a gallon on July 22, up 33 percent from January.
All this driving has thrown a lifeline to European refiners. The profit from making gasoline from Brent crude in northwest Europe jumped to $20.93 a barrel on July 8, the highest level since May 2007, after averaging $1.65 last year, according to data from PVM Oil Associates.
It was at $19.11 a barrel yesterday. Global refining throughput will rise to a record 79.4 million barrels a day this quarter, the IEA forecast on July 10.
"There's strong demand in Europe for gasoline which is part domestic, part export-driven," Harry Tchilinguirian, London-based head of commodity markets at BNP Paribas SA, said by phone. "Crude has come under global supply pressures from elevated production in OPEC countries to resilience in U.S. shale oil, allowing gasoline in turn to maintain a strong premium over crude."
Companies including Exxon Mobil Corp. and Valero Energy Inc. chartered 27 tankers to carry unleaded gasoline to the U.S. East Coast from Europe over the first three weeks of July compared with seven over the same period in 2014. They've also booked 33 clean tankers, which can carry gasoline, blending components, diesel or jet fuel, up from 24 last year.
The exports are making driving more expensive in Europe. The average gasoline price at pumps in the European Union has increased 16 percent since the end of January to 1.50 euros ($1.63) a liter, equivalent to $6.18 per gallon, according to European Commission data. The Netherlands, Denmark, the U.K. and Italy have the costliest fuel.
"We are in peak season now in terms of US demand," Olivier Jakob, managing director of Zug, Switzerland-based Petromatrix GmbH, said by phone. "So once we are through U.S. driving season, prices should settle down."
Recommended for you

US natural gas falls below $3 for first time since May 2021