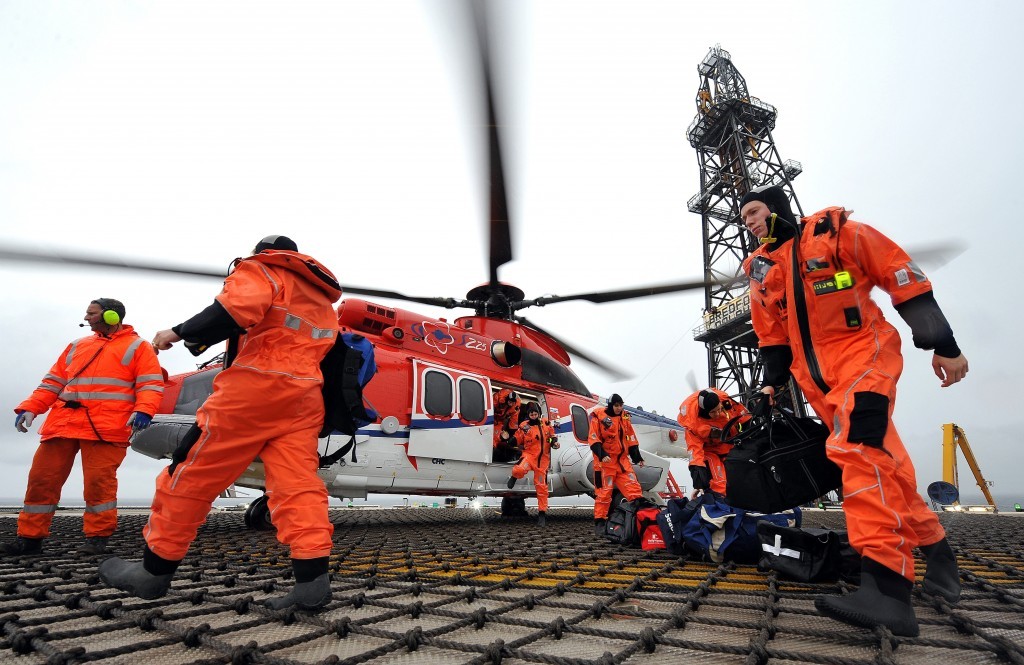 Unions have rejected proposals offered by the Offshore Contractors Association (OCA) for North Sea workers in a move which could increase the chance on industrial action in the North Sea.
Both GMB and Unite were balloted on whether to accept a new deal put on the table last month.
The result of the ballot from Unite members was 63.5% against and 36.5% in favour.
It is understood the union will be consulting with members in coming days following the decision.
It is understood GMB voted in favour of the proposals but as the union had fewer members balloted their vote has been outweighed by Unite.
The OCA's chief executive Bill Murray said it was "extremely disappointed" by the move.
Meanwhile Oil & Gas UK said it hoped both sides could "reach an understanding".
The decision comes after unions shelved plans to ballot on strike action as they went back to negotiations with the OCA which has 10 full members including Petrofac, Wood Group PSN and Stork.
The offer included a number of proposals such as employees working a maximum of three weeks under the, and it was also expected an independent review into the new shifts would take place after 12 months.
The initial agreement also stated there would be a potential 3% rise in sickness pay for offshore workers.
They would also be given two weeks holiday from work time as well as two taken from field break.
Unite industrial officer Willie Wallace said: "We said previously that our members would have the final say and they are clear that the OCA offer isn't good enough.
"North Sea employers must do more to address the deep concerns our members have over these shift pattern changes – from loss of earnings and livelihoods to the impact on workplace health and safety and quality of life.
"We are not blind to the challenges facing the industry, indeed we are acutely aware it because the human cost of the downturn is clear in the deep cuts to our members' incomes and livelihoods.
"However, the lesson the industry has to take from this process is that it must consult and engage with our members in a far more meaningful manner and that any changes impacting lives and livelihoods should not be imposed."
An RMT offshore energy branch meeting is set to take place tomorrow in Glasgow following the OCA referendum ballot.
Members have been urged to attend the meeting at the Premier Inn in Glasgow, before "deciding how we react to the OCA decision and the industry cuts agenda".
Industry chiefs said companies had to make changes to stay afloat amid the oil price downturn, but unions argued that switching to "equal-time" rotas would lead to a slide in working standards.
Bill Murray, chief executive of the OCA, said: "We are extremely disappointed that the workforce has chosen to ignore their Trade Unions' advice and reject our offer.
"We believe that we have acted as a fair negotiator throughout this process and that our offer balances the needs of workers with the requirements of business at this challenging time.
"While we have proposed a necessary wage freeze in the face of the urgent need to make efficiencies and 0% inflation across the UK, we have offered to address two long standing issues in these negotiations on sick pay and holiday pay. When combined with changes to work patterns, these mean that our offer is worth on average up to £7,000 per annum extra per individual. This can only be paid for through productivity increases if we are to avoid further redundancies.
"The International Monetary Fund has named the UKCS as the most expensive basin to do business in, and if we don't take urgent action to manage costs and increase productivity we will begin to see investment move elsewhere. As we have said before, strike action will only serve to make investment in the North Sea less attractive and jeopardise the long-term future of the industry."
A spokeswoman for Oil & Gas UK said it hoped the door was "still open" to finding an agrement.
She said:"Oil & Gas UK is disappointed to learn that that proposals from the Offshore Contractors' Association, following extensive talks with union officials, have today been rejected. We hope that the door is still open to finding an agreement, and both sides can reach an understanding that will safeguard the long term future of our industry.
"The cost of oil and gas operations on the UKCS has more than doubled over the last five years, making it the most expensive province in the world in which to operate.
"As a result, industry is working hard to improve its efficiency on a sustainable basis in order to restore the basin's competitiveness, attract investment to the UK and protect jobs across the supply chain for the long term."
Earlier today Wood Group PSN revealed it was in consultation with staff over potential job losses.
In a letter seen by Energy Voice, the company credited the loss with Talisman Sinopec's move to an equal time rotation from the historic two weeks on, three weeks off set-up.
The change will see 750 positions placed at risk of redundancy and a total workforce reduction of at least 20%, according to the letter.
Recommended for you

Baker Hughes: Strikes still going ahead at Montrose despite new deal