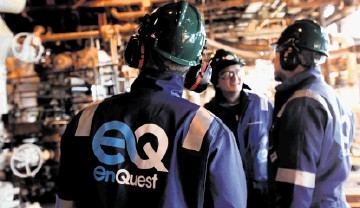 The outcome of a consultation by EnQuest into an equal time rota will see the loss of a number of jobs – but less than had been previously estimated.
Earlier this year the company revealed it may move to a three on, three off shift pattern in line with a number of other firms including Shell and Chevron.
The decision was expected to see a reduction in positions from companies including KCA Deutag, Petrofac and Sodexo.
The total included nine EnQuest jobs previously announced.
As previously reported by Energy Voice, Neil McCulloch, president of North Sea for EnQuest, said the review could result in a potential overall reduction in the core and drilling crews from 681 to 535.
A total of 41 jobs from Petrofac have been affected following the changes which was lower than an initial estimate of up to 79 positions.
The company said 33 jobs were affected across the Heather, Thistle and Northern producer assets which were a mixture of redundancies and voluntary redundancies.
A total of eight jobs were also affected on the Kittiwake field, which Petrofac said was also a mixture of job losses and voluntary redundancies.
A number of staff members were successfully redeployed to other sites and are still employed with the company.
In February, Enquest revealed it had made a pre-tax £392m loss in 2014.
But the firm pledged to increase investment on Kraken, one of the largest North Sea developments, which Enquest said was on budget and on track for first oil in 2017.
A spokeswoman for KCA Deutag said 12 jobs in total had been affected by the change in shift pattern.
The previous estimate had stood at 15.
A spokeswoman from Sodexo decline to comment on the matter.
Recommended for you

EnQuest takes first half loss, calls for government action