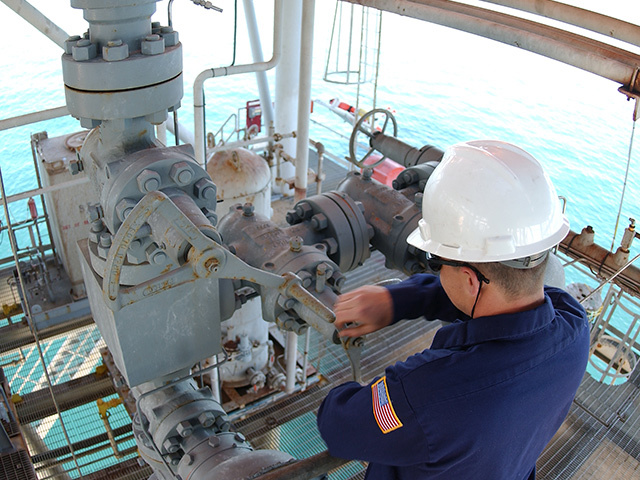 Mexico began its annual program to lock in oil sales for the coming year as a shield against a further drop in prices, three people with direct knowledge said.
Morgan Stanley, Citigroup Inc., JPMorgan Chase & Co. and Goldman Sachs Group Inc. are among the banks involved, said the people, who asked not to be identified because the process is private. Mexico's hedging program is probably the largest undertaken by a national government, the chief economist for the country's Finance Ministry said in 2012.
The Latin American country has started buying the puts, which gives it the right to sell oil at a predetermined price, earlier than the usual period of late August to late September, the people said. They declined to provide further details, including the price level. Mexico's hedging program has often roiled energy markets since its introduction in 1990-91.
Spokesmen for Morgan Stanley, Citigroup, JPMorgan and Goldman Sachs declined to comment. Press officials at Mexico's Finance Ministry said they won't comment about any hedging until November, when Congress sets the public budget for the following year. Ricardo Medina, a spokesman for the central bank, which executes the hedging program, declined to comment.
Put Options
Several put-option deals disclosed in the past 10 days may be related to the program. They expire in November 2016, when Mexico's program ends, and are of a larger-than-average size.
The deals, made at $48 a barrel and costing $6 a barrel, have been made public because of new regulations introduced in the U.S. with the Dodd-Frank Act. The disclosures don't reveal the final buyer or the banks involved.
As West Texas Intermediate crude slipped to a four-month low this week, contracts that expire in a year have tumbled to the lowest price since the global financial crisis.
Crude prices face "headwinds" in the second half, said Adam Longson, a commodities analyst at Morgan Stanley. "Producer and sovereign hedging could be greater factors" from now until December, he said.
Mexico has annually hedged about 200 million barrels over the past several years. Finance Minister Luis Videgaray said in April the country planned to hedge exports again for 2016.
"Certainly it will not be a hedge at the price we were able to get for this year's hedge, but we'll take what the market gives us," Videgaray said in an interview at the time.
Lower Prices
The government, which depends on oil for about a third of its revenue, paid $773 million last year to lock in prices at $76.40 a barrel. Mexico's Maya crude averaged $49.77 so far this year, according to data compiled by Bloomberg.
Mexico used Citigroup, Goldman Sachs, JPMorgan, Morgan Stanley, BNP Paribas SA, Barclays Plc and HSBC Holdings Plc to implement the hedge, the central bank said in June following a public-information request by Bloomberg.
Despite Mexico's hedging success — it received $5 billion in 2009 after oil prices plunged — few other commodity-rich countries have followed suit.
Ecuador hedged oil sales in 1993, yet losses triggered a political storm and the nation never tried again. Colombia, Algeria and even Texas have also experimented with hedging.
More recently oil importers Morocco and Jamaica have hedged against rising energy prices, while Ghana, the world's second- largest exporter of cocoa, hedges the price of beans.
Recommended for you

What OPEC+'s production deal means for global oil markets