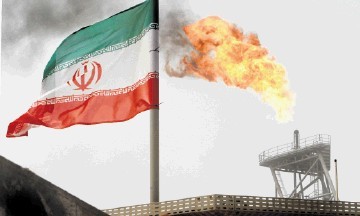 The European Union has removed two Iranian oil companies from its sanctions list, the first such action since Iran reached a nuclear agreement with world powers earlier this month, a notice from the British finance ministry said on Friday.
Petropars Operation and Management and Petropars Resources Engineering had been pressing for their removal from a list of sanctioned companies for months on the grounds that there was insufficient evidence to include them.
The companies, which are the part of a group involved in extracting natural gas from Iran's South Pars field, appealed to the EU court in May to allow their removal from the list.
The court removed the companies after receiving no objection from the European Council. The Council itself could not immediately be reached for comment.
The court at the same time declined to remove two other companies, Petropars Iran Co and Petropars Oilfields Services Co, from the list because of the larger stakes those entities have in parent group NIOC.
While the decision to remove the two groups was not related to the recent nuclear agreement, a lawyer for the two said she was hopeful the warming relations between Iran and the west would ensure her clients stay off the list of sanctioned companies.
"Because this is the first annulment that happened after the Iran agreement … we are hoping that the council has not appealed in good faith," said Pavani Reddy, managing partner of law firm Zaiwalla and Co Solicitors, adding that applying new charges against them would be "a waste of time and resources".
European courts in the past nullified sanctions against the National Iranian Tanker Co (NITC), Iran's biggest tanker firm, only to put it back on the list later.
Recommended for you

Afentra appoints former Cote d'Ivoire oil minister