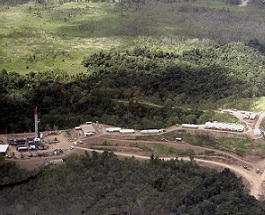 Total has completed the transfer of operations of the Papua LNG Project in New Guinea from national operator Oil Search.
This follows the unanimous vote by all joint venture participants at the end of February to appoint Total as operator of the PRL 15 joint venture.
A transition agreement has been agreed between Total and the former operator, InterOil, under which InterOil will drill the Antelope 4 sidetrack well, which is expected to
commence drilling shortly, on behalf of Total, while Total will operate the Antelope 6 well.
Oil Search managing director Peter Botten, said: "Total personnel are now progressively being mobilised to Port Moresby. Given the importance of Papua LNG to Oil Search and PNG, supporting Total and working closely and collaboratively with InterOil, governments and landowners towards the earliest practicable development of the Elk-Antelope field is a key priority for Oil Search."
The Papua New Guinea Department of Petroleum and Energy has been advised of the effective date of the change of operator.
Last month Oil Search increased its production targets thanks to its PNG liquefied natural gas joint venture.