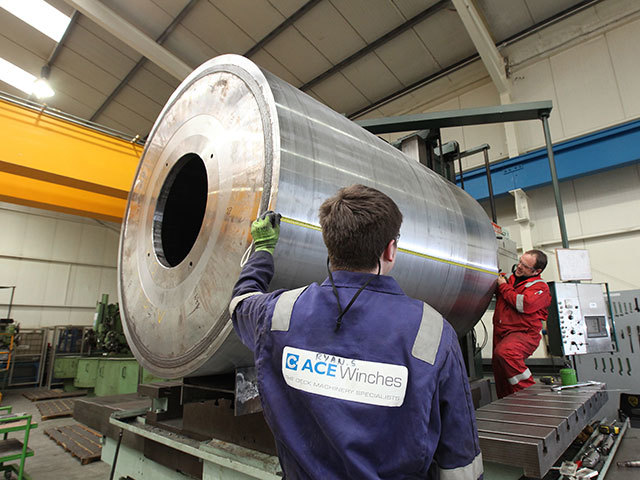 Workers at a north-east engineering firm are braced for redundancies after bosses unveiled plans to downsize the operation.
Ace Winches in Turriff supplies deck machinery and staff for the offshore oil and gas, marine and renewable energy industries.
And the company could shed 60 of its 313-strong workforce at its UK HQ in the run-up to Christmas.
A spokeswoman for Ace said last night that in common with other oilfield sector providers the firm was "proactively managing" the business during the industry-wide downturn.
"The company has responded by implementing a number of cost reduction initiatives and efficiency drives to reduce costs and better align the business with the current market environment," she added.
"As part of this process the company is reviewing head count and it is expected that approximately 60 positions may be placed 'at risk' of redundancy."
Employee contracts will also be reviewed to provide greater "flexibility" in managing the company's workforce and keep further potential reductions to a minimum.
The announcement was made just days after the firm's chief executive Alfie Cheyne flew to the Far East for a trade mission with Prime Minister David Cameron.
At the time, Mr Cheyne said the visit would "endorse the excellence of British research and development, and high quality engineering solutions".
Ace has delivered more than £5million of equipment and manpower to the region, including workers for the Jangkrik Muara Bakau Block Project and deck machinery worth more than £1million for Helix Energy Solutions Group's new semi-submersible well intervention vessel Q7000 at the Jurong shipyard in Singapore.
Last night, former first minister and local MSP Alex Salmond said he was "confident" the Turriff-based firm would bounce back.
"The downturn is affecting even excellent companies like Ace Winches, who are amongst the best, most innovative oil field suppliers," he added.
"However, I'd be confident that as the market improves the company will recover in terms of employment.
"Of course this will be a difficult time for my constituents affected, and I would encourage anyone who is looking for assistance to contact my office in Inverurie."
And Banff and Buchan MP Eilidh Whiteford said she and Mr Salmond would do "everything in our power" to assist the workforce.
A spokesman for the Unite union said the potential job losses were reflective of the oil price slump.
"We can't afford to keep haemorrhaging skilled manufacturing jobs across the country, let alone the north-east," he added.
Recommended for you

Ace Winches unveils plans to open new base in Houston