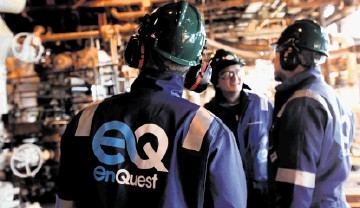 The North Sea is still a good return on investment, according to an industry boss.
Enquest's president for the North Sea, Neil McCulloch, said the sector was still very much open for business.
The company leader spoke to Energy Voice as it confirmed a 20% slide in earnings.
Despite the dip, Enquest's North Sea assets posted a strong return with its Kittiwake Area (GKW) increasing production efficiency by 87% in the first half of the year.
McCulloch said GKW and the firm's Thistle asset were the stand-out "highlights" for the six year period.
"We are able in the case of Thistle to find attractive opportunities in the terms of their being between $5million to $8million in each well with a development cost of $4 per barrel," he said.
"With the barrels we are bringing in on Thistle we can make a good margin on them and they pay back fast which gives us good investment capital.
"The message is if we go about this in the right way with the right level of determination and innovation, even at $50 there are still opportunities in the North Sea."
The "right way" includes decreasing opex to a tight $30 per barrel and moving to a three weeks on, three weeks off rotation.
Chief financial officer Jonathan Swinney said: "It's also about reducing costs in logistics, so we need less helicopter flights to get the teams out to the platforms.
"We're working very hard to reduce costs and we're not alone in that."
The firm will find company with the likes of Wood Group, Statoil, Shell and BP.
McCulloch added: "We had a quite a good number of Enquest staff on our platforms but we had no forced redundancies from the programme.
"A handful of people decided this was a good time to go and do something else with their lives."
Enquest has since decreased its transportation costs from $10.5 per barrel to $7.6 per barrel.
McCulloch said the move to streamline budgets with the supply chain started nearly a year ago.
"I'm not saying we're clairvoyant but we did ask before oil price fell," he said.
"Oil & Gas UK published many useful tables and graphs that showed as an industry we had a cost problem before oil price fell."
Enquest used its supply forum in last year's third quarter when oil was still sitting the $90 mark to kick-start the change in attitude.
Enquest is now working with its network to leverage returns and get things "right first time, every time", according to McCulloch.
But the money clawed back is not being stuffed into war chest. Instead it's ploughed back into maximising the North Sea's return, said McCulloch. Uncovering an oil find in an additional appraisal well in Kraken West is a result of that financial cycle.
He added: "We're showing that we're investing the money that we have saved into new wells and that's helpful," he said.
When asked about the North Sea's immediate future, he said: "We are confident."
In the current economic environment the firm expects its investments to start paying back in as early as three months' time.
McCulloch added: "We see opportunity in our portfolio and I think there's opportunity in other parts of the North Sea as well."
Recommended for you

Watch: Boris Johnson says UK has to keep North Sea oil and gas flowing