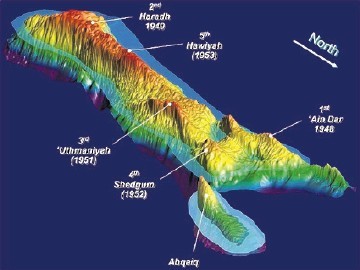 Saudi Arabia boosted crude output to a record, deepening a global supply glut and sending the country's stocks down for a seventh day in the longest losing streak this year.
The Tadawul All Share Index retreated 2.5 percent to close at 7,991.28 in Riyadh, less than 130 points away from a threshold for entering a bear market. The selloff in oil resumed as the kingdom said crude export in June beat a previous high set in 1980 as OPEC nations seek to maintain market share.
Two months after Saudi Arabia opened its equity market to direct foreign investment, stocks have been reeling as crude's plunge prompted the International Monetary Fund to warn the kingdom's growth may slow. The Tadawul's moving averages made a so-called death cross on Tuesday, a sign to some investors more declines lie ahead.
"The last thing Saudi stocks needed was for its own government to boost oil output, putting more pressure on oil prices," said Sebastien Henin, who oversees $90 million at The National Investor in Abu Dhabi. "This is an indication of Saudi government's resolve to continue its war for oil market share and the stock market has reacted very strongly to that."
Jabal Omar Development Co., a Mecca-based real estate developer, led the Tadawul's slide with a 7.4 percent drop. The EGX 30 Index in Egypt, which has relied on oil-rich Gulf states for financial aid, sank for a sixth day to the lowest since January 2014.
Saudi Arabia is home to about 16 percent of the world's proven oil reserves and relies on revenue from crude to fund government spending. Brent, the benchmark for half the world's oil, fell 1.7 percent earlier to $48 per barrel at 3:47 p.m. in London, the lowest on a closing basis since January.
"The pain, it seems, is never-ending for the Saudi stock market," said Wadah Al Taha, the Dubai-based chief investment officer of Al Zarooni Group, who would consider buying Saudi stocks selectively in sectors other than oil and gas.
Recommended for you

Oil opens week on front foot as products, dollar buttress gains