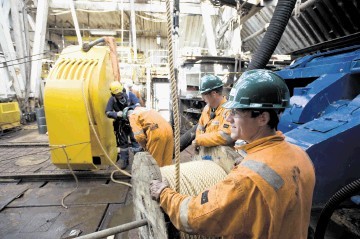 North Sea industry bosses are rapidly running out of time in which to reach an agreement with offshore workers and avert a strike action ballot.
The Unite trade union said yesterday that a vote on industrial action is just a few weeks away, after the latest round of talks with employers ended in stalemate.
Unite's spokesman said that while the union is still prepared to consider a new pay deal from employers, the prospect of further talks taking place looks increasingly unlikely.
The Offshore Contractors' Association (OCA), which represents oil and gas companies, said its most recent offer was "fair" and reiterated warnings that a strike would irreparably damage North Sea industry.
The two sides have been at loggerheads over energy firms' efforts to rebalance the books amid the oil price slump by changing shift patterns, sick pay and leave entitlement.
But in June, the OCA appeared to have resolved the dispute when Unite and GMB recommended that its members vote to in favour a revised pay deal.
GMB's offshore members accepted the offer, but Unite's contingent snubbed the proposals.
Last week, Unite and the OCA met once again, but were unable to hammer out an agreement.
Unite said employers had failed to improve on the deal they tabled in June, while the OCA insisted the terms were fit for purpose.
OCA chief executive Bill Murray said: "We proposed a pay freeze at a time when UK inflation sits at 0% and we offered a better deal on sick pay and holiday pay; a package worth up to £7,000 per annum extra per individual when taking into account rota changes.
"While we support the move by some operators to equal time rotas as an important way of increasing efficiency, our offer also guaranteed that no offshore trip would be more than three weeks in duration and committed our members to carrying out meaningful consultation and comprehensive risk assessment before changing any rota patterns in future."
Unite industrial officer Willie Wallace said: "The OCA has not come back with anything different so we'll progress on to a ballot.
"The door is still open but it is looking less and less likely that anything will be discussed."
Mr Wallace said it would take "a few weeks" to organise the ballot, which would then run for a month to accommodate all members, including those returning from offshore.
Recommended for you

Petrofac workers balloted over pay dispute