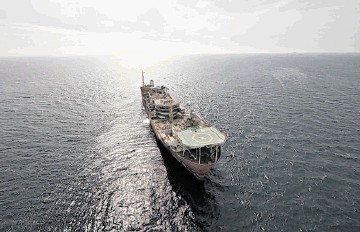 Up to 200 staff at Maersk Oil in the UK face the risk of redundancy after the company revealed plans to shut down one of its North Sea assets.
The company is to approach the Oil and Gas Authority to seek approval to cease production from its Janice installation in the second or third quarter of next year, leaving the company with two operational assets.
Danish operator Maersk, which has its UK base in Aberdeen, is also consulting with staff over plans to move to a three weeks on, three weeks off rotation for offshore personnel. The company plans to implement this in the second quarter next year.
Current rotas are two weeks on and four weeks off for OIMs and other members of the offshore leadership team, and two on and three off for the rest of offshore personnel.
Staff were informed of the changes at a "Town Hall" meeting in Aberdeen. Maersk Oil's current headcount is around 850.
The company said the actions were being taken as a result of "ongoing challenges in the market and Maersk Oil's cost transformation process".
A company spokesman said: "All options will be explored through consultation to minimise impact on positions, but it is possible that an estimated 200 onshore and offshore roles may be affected as a result of the proposals outlined today.
"This is a very unsettling period for colleagues. The business will offer as much support throughout the process as possible and remain focused on maintaining safe and reliable operations."
Last week, Wood Group chief executive Bob Keiller said the move to equal time rotas led to a 20% reduction in head count.
Maersk Oil has had a presence in the UK since 2005 and operates offshore installations: Gryphon FPSO, Global Producer 3 FPSO and the Janice floating production unit, which handles hydrocarbons from the Janice, Affleck and James fields.
What happens to the fields will be covered in the company's proposals to be submitted to the OGA.
It's ultra high pressure/high temperature Culzean project in the UK Central North Sea continues to progress to schedule.
In April, Maersk Oil said it had launched a consultation period following an announcement to staff regarding up to 35 job losses.
Earlier this month operator TAQA said it was to reduce headcount by 100.
Helicopter pilots have voted for strike action after proposed jobs cuts at CHC Helicopter and Bristows – a move that has been described as "crippling" to the industry.
Recommended for you

INTOG wind leasing round opens as Crown Estate backs North Sea decarbonisation