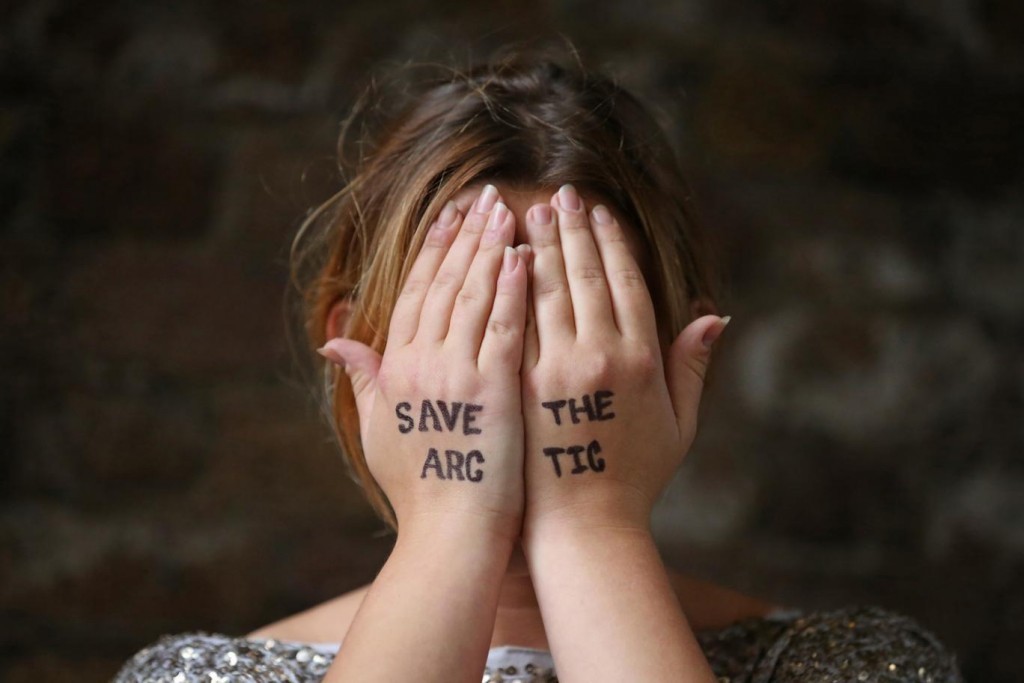 Singer Charlotte Church performed outside Shell's London headquarter as part of a protest against Arctic drilling.
Church sang with a string quartet close to the oil company's London headquarters as part of a month-long protest by Greenpeace, who warn drilling in the Arctic could lead to environmental disaster.
She told supporters her rendition of Dinah Washington's This Bitter Earth was aimed at Shell staff in a bid to make them question the company's actions.
The US government this month gave Shell the final permit it needs to drill for oil in the Arctic Ocean off Alaska's north west coast for the first time in more than two decades.
Shell hopes to drill two exploration wells during the short 2015 open-water season which lasts until late September. It has two drill vessels and about 28 support vessels in the Chukchi Sea.
After her performance, Church covered her face with her hands which were painted with the words "Save the Arctic".
She said: "Really it is just about nothing else but profit, money and big business and I just think it affects us all on the entire planet.
"What's happening at the moment is exploitative. I hope to use my voice to raise the profile of Arctic drilling."
Shell said it respected people's right to protest, but criticised the Greenpeace "publicity stunt".
Greenpeace is concerned that the extreme conditions in the Arctic makes drilling very risky, with a high likelihood of oil spills which it is feared would be impossible to clean up and would endanger the region's unique wildlife.
And with a limited amount of fossil fuels that can be burned if the world is to keep rising temperatures in check, scientists have ruled out drilling for oil and gas in the Arctic as "inconsistent" with efforts to tackle climate change.
Shell has already spent billions of dollars attempting to find oil and gas in its icy waters, though it has been dogged by operation issues and protests.
Pointing to the Shell head office, Church said: "This is for the people over there, for them to feel some empathy and make them question what they're doing.
"This is a world-wide issue, even though I understand it is predominately to do with the American government. But at the moment, I think this is the main place to be to direct a protest."
A spokesman for the company said: "We believe we can play an important role in developing the Arctic's energy resources. We choose to explore there because we have the expertise and experience to operate responsibly and be profitable at the same time.
"Many Arctic peoples and governments agree with that judgment. They support the opportunity to explore for oil and gas in their territories and those governments have awarded Shell the licences to conduct those operations.
"The reality is that hydrocarbons will remain a major part of the world's energy system for many years, not least because they provide the path to prosperity for many millions of people in the developing world, enabling them to enjoy living standards that the western world takes for granted."
Recommended for you

Shell emissions on course to drop this decade, but activist investor wants more