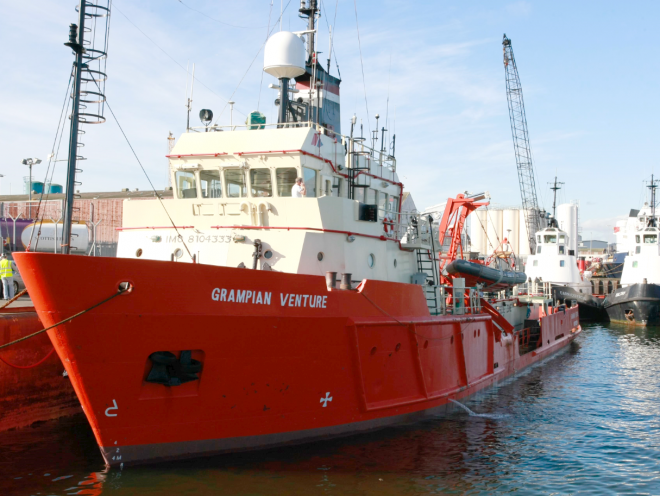 The boat that played a pivotal role rescuing survivors of the Piper Alpha tragedy is to be scrapped.
The Grampian Venture – which sailed as the Sandhaven at the time of the disaster – will be dismantled this year after 34-years of service.
The standby vessel had been working in the North Sea under Captain Sean Ennis when he responded to the mayday call on July 6 1988.
The oil rig exploded, killing more than 100 people, with the Sandhaven one of the first vessels on the scene.
Six men were rescued on the Sandhaven but the boat was overcome by flames when the second gas line ruptured.
Two of the crew and all those rescued lost their lives. One of them was Mr Ennis' best friend who died when the second explosion engulfed the fast rescue craft they had dispatched to pull survivors from the sea.
Last night, a spokeswoman for the Pound for Piper memorial trust said those involved in the disaster would never forget the role played by the Sandhaven.
She said: "She embodies everything that the rescue was about and the great heart in the North Sea – that people will put themselves out there no matter their nationality. The North Sea is a unified, global workplace and everybody pulls together when they're in a tight spot.
"The Sandhaven will be in our hearts and minds forever – it will be a poignant farewell."
In 1990, then Secretary of State for Transport, Sir Malcolm Rifkind, awarded Mr Ennis a commendation for bravery. Crew mate Ian Letham received the George Medal, which was also awarded posthumously to colleagues Brian Batchelor and Malcolm Storey
Mr Ennis, a father-of-four, died of heart failure at his home earlier this year aged 60.
Callum Bruce, managing director of North Star Shipping, which is operated by Craig Group which owns Grampian Venture, said the boat had reached the end of its lifespan.
He said: "While we did not own the vessel at the time of Piper Alpha, she will be poignantly remembered for the significant rescue role she performed in the tragedy and, indeed, how she went on to become one of our stalwart vessels in helping to ensure the highest standards of safety in the North Sea."
The Occidental Group, which operated the oil well at the time of the tragedy, donated a plaque to the Sandhaven paying tribute the two crew men who lost their lives – Brian Batchelor, 44, and Malcolm Storey, 38.
In total, 167 men lost their lives in the tragedy.
Recommended for you

GALLERY: The North Sea and remembering Queen Elizabeth II