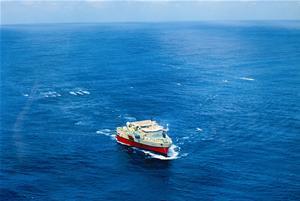 Norwegian survey specialist Petroleum Geo Services has decided to cold-stack a third vessel in order to cut costs.
PGS will stand down the Ramform Viking on completion of its existing contract offshore East Newfoundland in late October.
The vessel was originally scheduled for a yard stay and classing in the first quarter 2016 and this will now be deferred.
In-sea equipment from the Ramform Viking will be used on vessels still in operation and reduces the company's maintenance-spending in 2016 by approximately $50 million.
PGS had earlier announced that the Ramform Explorer and Ramform Challenger will be cold-stacked after end of the North Europe acquisition season this year.
Cold-stacking of the three Ramform vessels will reduce quarterly cash costs by approximately $25-30 million from the first quarter of 2016.
PGS has a fleet of 10 Ramform vessels.