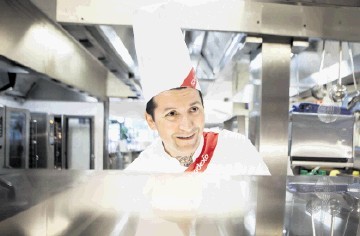 Offshore caterers will vote on strike action over a pay dispute with employers.
Union bosses yesterday accused offshore catering companies of refusing "point blank" to honour a 1.3% pay raise that had been agreed for this year.
The Unite union said the position held by the Catering Offshore Trade Association (COTA), which represents six offshore catering firms, had left it with no choice and advised its members to vote in favour of strike action.
The union has served employers with a statutory seven day notice for the ballot, which will run for six weeks.
Cota previously said the decision to withdraw the pay offer was not taken lightly, explaining it as a response to "challenging economic times" amid the oil price downturn.
Unite industrial officer John Boland, said: "The point blank refusal of the COTA employers to honour our pay agreement has left us with no choice but to proceed to a formal industrial action ballot.
"Even against the backdrop of oil price volatility and industry pressure, COTA employers' profits run into billions and it is unacceptable that our agreement – negotiated in good faith – is now being ignored.
"We are giving our members a clear recommendation to vote 'yes' for action short of a strike and 'yes' for strike action in order to secure the strongest possible mandate to defend their terms and conditions against the industry's imposition.
"Our members keep the UK offshore industry fed and watered 24 hours a day, 7 days a week, 365 days a year but we have to take a stand now in order to prevent a damaging race to the bottom."
Recommended for you

Baker Hughes: Strikes still going ahead at Montrose despite new deal