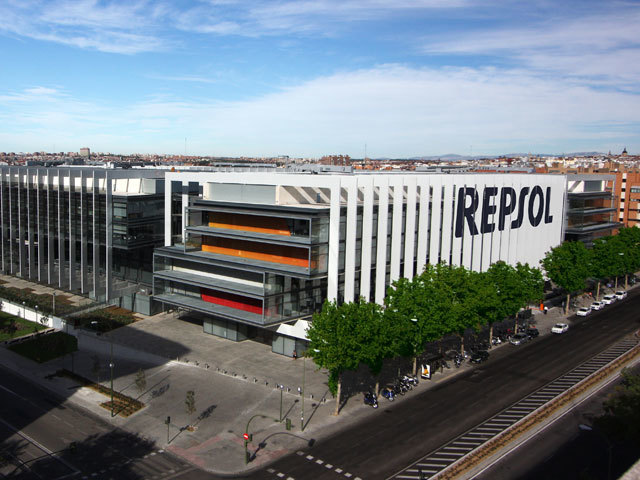 Repsol SA, Spain's biggest oil company, is exploring options including a sale of part or all of its stake in Gas Natural SDG SA to shore up its balance sheet amid low oil prices, according to people familiar with the matter.
Repsol, whose 30 percent stake in the Spanish natural gas distributor is valued at about 5.2 billion euros ($5.9 billion), is discussing potential deal structures with advisers, the people said, asking not to be identified because the discussions are private.
As well as a full or partial sale, which could come as soon as this year, options include selling shares in the market and finding partners to join Gas Natural's shareholder structure, the people said.
"We deny that we have any plans to sell the Gas Natural stake," said Kristian Rix, a spokesman for Repsol. A representative for Barcelona-based Gas Natural declined to comment.
A sale of the stake would help Repsol raise funds to reduce debt and avoid a downgrade of its debt rating, the people said. Oil prices reached a six-year low last month as concern over China's growth fueled market volatility. Repsol shares have fallen more than 35 percent this year, valuing the company at about 14 billion euros.
No final decision has been made, and the timing of any deal remains unclear as market uncertainty related to the Catalan and national elections before year-end could affect any transaction, the people said. The company plans to present its 2016 to 2020 strategic plan on Oct. 15.
Repsol shares pared losses to trade up 0.85 percent at 10.12 euros as of 4:21 p.m. in Madrid. Gas Natural dropped as much as 4.6 percent and was trading 2.1 percent lower at 17.20 euros.
Repsol is also considering selling assets in regions including Venezuela, Alaska, Bolivia and the Gulf of Mexico as it seeks to reduce debt after its $13 billion purchase of Talisman Energy Inc. last year, people with knowledge of the matter said in July. The company needs to maintain its credit rating, which stands at BBB- at Standard & Poor's, the lowest investment grade.