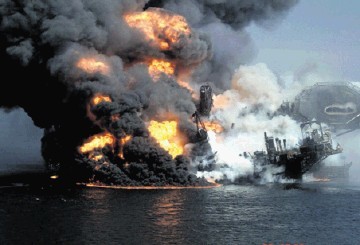 BP will pay more than £13billion in fines to resolve nearly all claims from its deadly Gulf of Mexico oil spill five years ago, it was announced yesterday.
Attorney-general Loretta Lynch said state and federal claims against the oil giant were resolved, marking the largest corporate settlement of its kind in US history.
The final settlement is more than the £12.3billion deal struck this summer, partly because Ms Lynch also included restoration work BP had previously agreed.
Yesterday's new total adds to the $28.9billion BP had already set aside for criminal or civil penalties and cleanup costs. The company has said its total pre-tax charge for the spill is now around £35.5billion.
Investors praised the agreement as essentially capping liabilities that could have been much larger.
The fines – to be paid to the federal government, five Gulf Coast states and hundreds of municipalities over 18 years – will fund environmental restoration and economic development programmes to address the worst offshore spill in US history.
"This agreement will launch one of the largest environmental restoration efforts the world has ever seen," Ms Lynch said.
The Macondo well blowout and fire on the Deepwater Horizon drilling rig on April 20, 2010, killed 11 workers.
It also fouled 1,300 miles of coastline and dumped more than 3million barrels of crude into the sea, hurting fishermen and prompting overhauls of safety rules and emergency plans in one of the world's most prolific offshore oil basins.
The core of yesterday's final settlement includes £4.7billion for natural resource damages, £3.6billion for Clean Water Act fines, and £3.2billion in payments to states.
Recommended for you

Oil jumps as more sanctions on Russia spur energy crisis fears