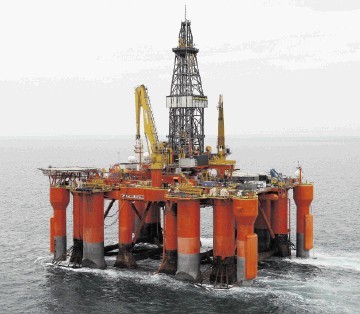 Investors are still keen to invest in the North oil and gas industry, if the right deal is available, according to a senior industry expert.
Rob Turner, director of energy, utilities and infrastructure at PricewaterhouseCoopers was speaking at the Oil and Gas UK business breakfast briefing held at Aberdeen's Exhibition and Conference Centre earlier today.
He said although the market remained extremely challenging, major players were still keen to invest, particularly on the production side of the industry.
Turner said that even in a challenging business environment, there were signs the industry was taking a creative approach to reviving the market for upstream.
He said that London-based fund managers were looking at oil and gas to invest – something they had not necessarily done in the past.
Turner said the oil and gas industry was afflicted by persistent pessimism, largely due to unresolved price and cost pressures, but the ingredients were in place for investment from sources such as private equity, banks and hedge funds.
He described the hedge fund managers as the "Mayfair glory boys" of London: "These guys are learning. It was quite scary to go out to these guys at the beginning of the year.
"They all had the same spiel, 'We've got a fund worth $5billion and we're interested in taking risk'. Not many of those people had done a great deal in the oil industry and not very many of them had done much in the North Sea.
"Their comparator is onshore US where there's lot less risk and lot more perceived short-term value.
"The key is they're still inviting us back for conversations and they're still engaged and we've seen some of those guys very, very well advanced in some very, very complex deals.
"There are deals on the table and a heck of a lot of capital pointing at the North Sea. I do think there's momentum and there's immensely busy times for the North Sea. We do think there's a lot of innovation and creativity that will unlock investment, that is our key message."
Turner said that investors were focused on production rather than exploration opportunities.
He said there were "familiar, oily reasons" for caution centered around oil price, costs and decommissioning.
"Private equity is focused on the perfect deal and looking for scale and control. There are not many of those deals out there but are enough good ones out there for the big PE companies.
"What that does mean is that PE not doing the job it was doing in unlocking some of the smaller deals"
Jon Shelley, PwC Corporate Finance's oil and gas leader, said combined market value of all the listed oilfield services business revealed that 40% of shareholder value had been wiped out in the past year – from £427billion to £270billion.
He said that although there had been a 60% reduction in oilfield services investment PwC did see activity returning.
Mark Tandy, managing director of Aberdeen consultancy firm Clarion Oil and Gas cited the risks Volkswagen had taken in manipulating carbon emissions in its cars to gain greater market share.
"As oil and gas producers, we cannot differentiate our product, oil is oil. The key risk in our industry is price."
Tandy said that investors should engage with the UK Government, following the oil price slump which had impacted future tax revenue from oil and gas.
"We have an engaged Government, their door is open and they are ready to have a discussion."
Ryan Morrison, district manager of Cameron, said his company was committed to the region: "Cameron believes there is a future in Aberdeen and the North Sea."