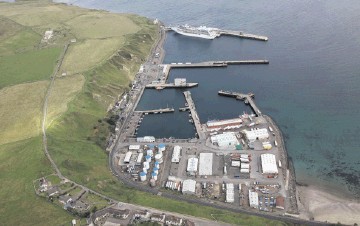 The chief executive of Asco said a period of $50 oil could be a "very good" thing for the North Sea as companies will be forced to work more collaboratively and reduce cost.
Alan Brown, who took the top job at the international oilfield support services firm last year, said the lifespan of the North Sea would be "much shorter" unless there was greater efficiency amongst operators and the supply chain.
Speaking exclusively to Energy Voice as the company revealed it has boosted its employee numbers in Peterhead and Aberdeen, he said Scotland remained the region where it saw its biggest opportunities.
He said: "Far be it from me to speculate on the oil price. What I would say is I think the industry has to be prepared for this being the new normal.
"There is clearly 30 to 40 years' worth of production in the North Sea, if we can do it efficiently.
"If  the oil price sticks at $50 it will drive collaboration. When the oil price rises back up, people get excited about drilling prematurely and there's less focus on making the North Sea efficient.
"If it stays at $50 we can make the North Sea efficient which can take us into the next 10, 20 years of production. If we don't get efficient, the life of the North Sea will be much shorter.
"A period of low price is going to be very good for the North Sea."
Asco, which employs more than 2,000 people globally, earlier this month reported "promising" prospects despite a widening of losses amid the decline in oil price.
Despite the downturn in the North Sea, Brown said the company has seen its staffing numbers increase since August from 1,079 to 1,243 staff members in Scotland – predominantly in Peterhead in August and only last week at its Aberdeen base.
The boost in permanent staffing numbers has occurred at the same time as a "small" number of management level staff have left the company, which was not publicly known.
Brown said: "We have not made public our reductions, it's tens of people, and it's a small number. It's mostly at the management level, where we have simplified. We have streamlined the structure; it's a small number of people."
Despite the reduction in some staffing numbers, the company has forged ahead with making some contract labour permanent members of staff.
Brown says it will improve the "quality of work" the company can offer clients.
While there has been a decline in drilling activity, Brown said production in the North Sea has slightly increased this year and is expected to rise even further into 2016.
Recent figures from industry body Oil and Gas UK confirmed this trend in a report earlier this year.
He said: "Peterhead and Aberdeen are the two locations where we have employed more staff. We had a number of people who work on the quayside who were contract labour, and temporary labour and we have got them on the payroll.
"We have done that because we think we can improve the quality of work by bringing them in house and introducing them to the Asco management system and increase the quality of service and offering by having a permanent workforce.
"That's been the biggest area of change but we have also done similar things in terms of IT and facilities management.
"Bringing in more staff has predominantly been in Peterhead – which happened in August – and in Aberdeen it started last week,
"We're very confident about it. I would say more staff have been hired in Peterhead: it's about a 70/30 ratio of new employment between there and Aberdeen.
"It was really about our ability to really train people better, if they were permanent employees, we felt we would get better work and better return on investment rather than people who were sub-contracted.
"We have had the confidence to do it; we have seen that though drilling activity has been very significantly downed, nevertheless production of oil has increased slightly this year and is forecast to increase next year.
"We have also been winning business and we have been successful in recruiting business."
The company has seen a number of important contract wins this year, winning both work on Statoil's flagship Mariner project as well as a five-year deal for a range of integrated services for BP's UK North Sea operations.
Brown said the company had been faced with challenges in the declining oil sands business in Canada, but that it had made many strides in Australia.
He added: "Australia has been very good for us – that has been a significantly growing market in Darwin, down in Adelaide. Things are more difficult in Canada, our business has been very badly affected by the downturn in the oil sands.
"The cost of production has been very high but we are always looking at opportunities in Saudi and Newfoundland but our main focus is in Scotland – that's where we see our biggest opportunities."
Recommended for you

Tailwind says NSTA regulator is reason why it had to give up North Sea discovery